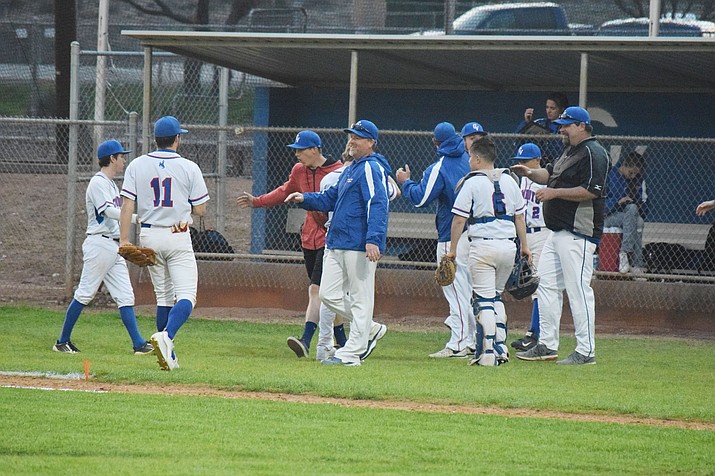 Originally Published: March 4, 2017 1:42 p.m.
Camp Verde baseball is off to a 7-0 start, but head coach Will Davis said he isn't quit sure how good the team is yet.
The Cowboys beat Mayer at home to open the season, then won the Bagdad tournament and beat Wickenburg for a second time this season but Davis doesn't think they've been challenged yet.
That could change on Monday when they host Chino Valley at 3:45 p.m.
"We're where we should be I think," Davis said. "It's a lot of seniors, so they should be a little ahead of the curve and I feel like that's where we're at right now, we're a little ahead of the curve. Are we playing outstanding? No. We haven't seen anybody good yet, so I'm not sure exactly who we are I think Monday will be a telltale sign when Chino Valley comes to town."
After beating Wickenburg 8-6 in Bagdad, the Cowboys blasted the Wranglers 19-0 at home on Thursday in four innings. Camp Verde scored eight runs in their firs two at bats and then three in their other one.
Senior Carson Zale gave up three hits, two walks and struck out five in three innings. At the plate, he hit a home run and walked.
Davis said Zale has been a "welcomed addition" after missing last season due to injury.
"They didn't play very well," Davis said with a laugh about the second Wickenburg game. "We hit the ball good, Carson did a great job on the mound, I'm really happy with the way he located his pitches and changed speeds, also obviously he was dangerous at the plate in that game, hit the ball well."
At the Bagdad tournament, Camp Verde beat Kingman Academy 11-3 and 5-4 and Bagdad 14-5 and 9-8, winning the tourney in walk off fashion.
"We played really well, we crushed the ball there, once again, nobody was overly tough, I mean Bagdad's legit, they were really good and we had two really good games with them," Davis said. "We came out on top, so we were pretty proud, pretty happy with that, see how we performed against good pitching, Bagdad had a good pitcher that they threw in that game, two of them in fact, we were able to put a lot of balls in play and pick up some key hits."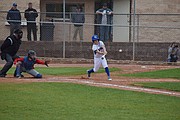 So far this year Davis has been impressed with senior utility player Easton Braden, senior shortstop/pitcher Wyatt Howe, who moved to short from second to lead the defense and senior utility player Ryan Cain.
"Behind the plate Easton's been a stalworth," Davis said. "Whenever we've played a good game, he's either been on the mound or behind the plate, so defensively he spurs everything for us."
Braden is hitting .300 this year, with 6 RBIs. Cain is hitting .474 with 6 RBIs as well.
"Ryan Cain obviously has been playing well, he's just been solid all four years, he's one of those guys that you can pretty much plug in anywhere in the line up or defensively and he'll go out there and work hard and get it down for ya," Davis said.
While the 10 seniors have dominated, Davis has been pleasantly surprised with the 5-foot-4, 125 pound sophomore utility player Dominiq Bruno.
"He's been very impressive early on this year for a sophomore and with his size and stature," Davis said. "He has no fear, he doesn't care if a kid is throwing 85 or 75, he gets right in there and goes to work."