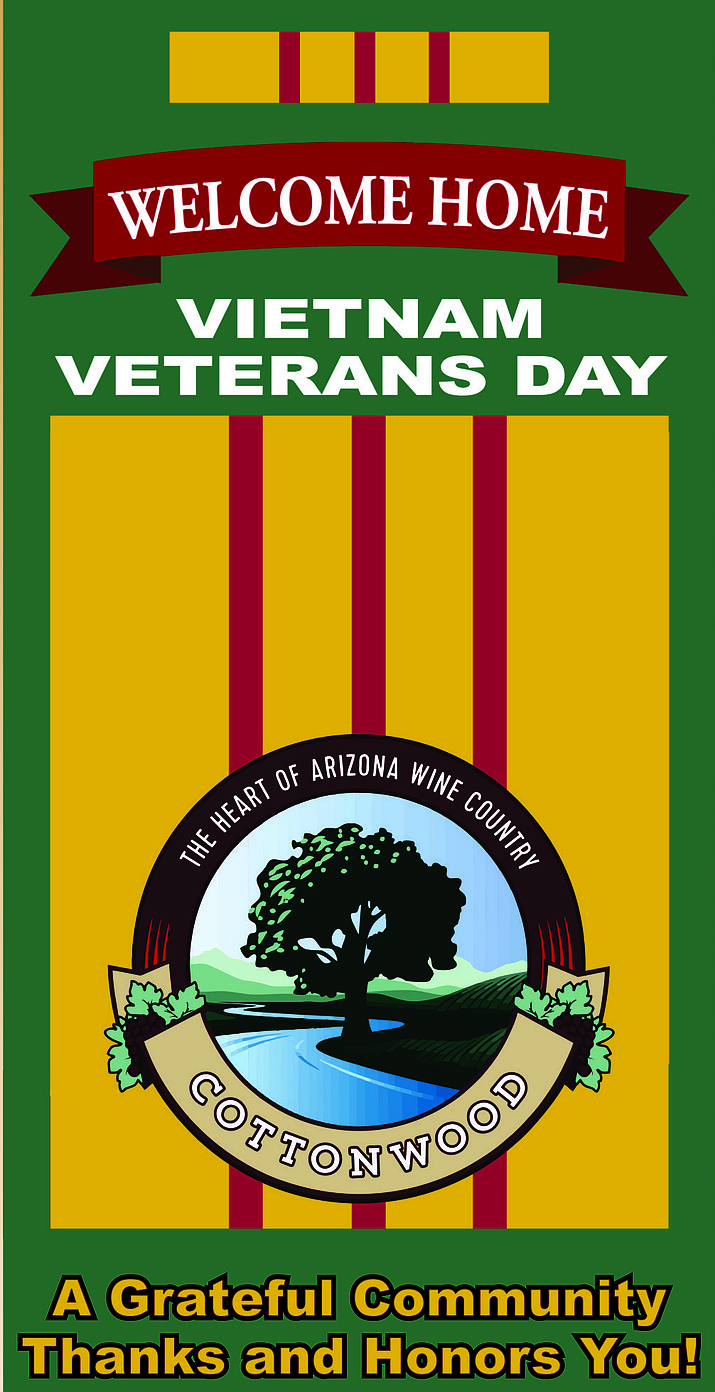 Originally Published: March 4, 2017 1:51 p.m.
COTTONWOOD – The sixth annual Welcome Home Vietnam Veterans Day celebration is scheduled for April 1 at the Cottonwood Kids Park, located at 321 South 12th Street near the Verde Valley Fairgrounds.
The City of Cottonwood, in a news release, said they were proud to serve as the host community for this year's event. A flyer of events and times is available at www.cottonwoodaz.gov.
"Vietnam Veterans returned home to a country that failed to differentiate between the war and the troops who served. Indeed, many homecoming veterans were scorned and insulted. In 2011 the U.S. Senate unanimously passed a resolution to provide these Veterans with the chance for a proper welcome home," stated the release.
Senator Richard Burr, ranking member of the Senate Committee on Veterans' Affairs, introduced the resolution, calling it "a day to give our Vietnam Veterans a warm, long-overdue welcome home."
A Ride of Honor for Vietnam Veterans is scheduled April 1. Staging and a bike blessing are scheduled for 10:30 a.m. at the Sedona Posse Grounds Park with kickstands up at 11:10 a.m. The ride ends at the Cottonwood Kids Park. For information about the bike ride, contact John of American Legion Riders Post 93 at 928-300-9829.
A Welcome Home Vietnam Veterans Day ceremony is set for 1 p.m. with Verde Valley mayors speaking. Food and other activities will be donated for free through the generosity of community businesses and organizations. Lunch will be served beginning at 12:30 p.m.
The public is invited.
All veterans attending the April 1 celebration will receive a commemorative pin.

Cottonwood Mayor Tim Elinski said, "I am pleased to be able to recognize the veterans in our community, whose selfless service has allowed us the opportunity to enjoy our freedom and quality of life. Cottonwood is home to many generations of service men and women, and I am proud to live in a community which actively supports its veterans through such tributes."
City Council recently approved the request from the committee for a $2,000 donation to support the event.
Vietnam Veterans planning the event include Cottonwood VFW Post 7400, Camp Verde American Legion Post 93, Cottonwood Post 25, Cornville Post 135, Verde Valley Detachment 1176 Marine Corp League and Sedona Detachment 1237 Marine Corp League. The cities and towns of Sedona, Cottonwood, Camp Verde, and Clarkdale take turns hosting the event each year.
For more information, contact coordinator Diane Joens at 928-634-4112 or dianejoens@outlook.com, Cottonwood Council Member Kyla Allen at kallen@cottonwoodaz.gov, or Cottonwood City Manager Doug Bartosh, dbartosh@cottonwoodaz.gov or 928-634-5526.

"The Welcome Home Vietnam Veterans Day celebration provides appropriate ceremonies and activities that give appreciation that Vietnam War Veterans did not receive upon returning home from the war and demonstrate the resolve that never again shall the Nation disregard and denigrate a generation of Veterans," stated the release.

More like this story