Originally Published: March 4, 2017 1:36 p.m.
Mingus Union girls tennis improved to 2-0 on Thursday and they haven't played a match at home yet this season.
The Lady Marauders beat Agua Fria 5-2, with two matches being called due to darkness.
Mingus Union won their first match, 8-1 at Moon Valley on February 23.
Agua Fria has 16 players, but only the top three are experienced so the Lady Marauders prepared for the match with a different approach said said Mingus Union head coach Andrea Meyer.
"We prepared for it by having the girls hit off of soft basket feeds, doing a lot of hand feeding for drills so that the balls that they hit wouldn't have a lot of pace on them, so that the girls themselves would have to manufacture the pace," Meyer said.
After the Marauders led 2-1 following doubles, senior Talon Whiteley won the No. 1 match,
"Talon Whiteley did an excellent job at No. 1, she won her match 6-1, 6-2, very handily," Meyer said.
Whitely and junior Emma Williams won the top doubles match 8-1 and senior Phoebe Chilton and junior Pei-Wen Yang won the No. 2 doubles match 9-7.
Yang won the No. 4 6-1, 6-4 to clinch the match when it was near darkness.
"The match was closer than the score would suggest," Meyer said. "Pei-Wen was playing a novice, but a very athletic and persistent novice. So you could tell how much effort she was putting into hitting the ball and driving the ball deep because she would grunt."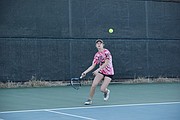 At No. 3, Chilton won 6-2, 6-1.
Meyer said she performed well, it was more consistent and that she's had more practice this week.
Williams won her first singles set 7-5 and was losing 3 to love when the match was abandoned.
"I'm very proud of her for winning that first set because she was winning handily and then as often happens in tennis matches, the balance shifted and the Agua Fria girl caught up," Meyer said. "Emma really had to gather her courage to win that set 7-5."
The Lady Marauders' next match is on Tuesday when they host Lee Williams at 3:30 p.m.
Mingus Union's first home match was scheduled last Tuesday against Sunrise Mountain but it was postponed due to weather.
The Lady Marauders' only "real" practice before the Agua Fria match was on Wednesday because of the rain, which forced practice to be cancelled or moved into the gym. Meyer said it did hurt the Marauders.
"It does, because is one of those sports where have to practice the geography of the court," Meyer said. "You have to be on the court to get your physical spacing from the ball, your physical spacing from the net and you can't simulate that very well in the gym."
More like this story