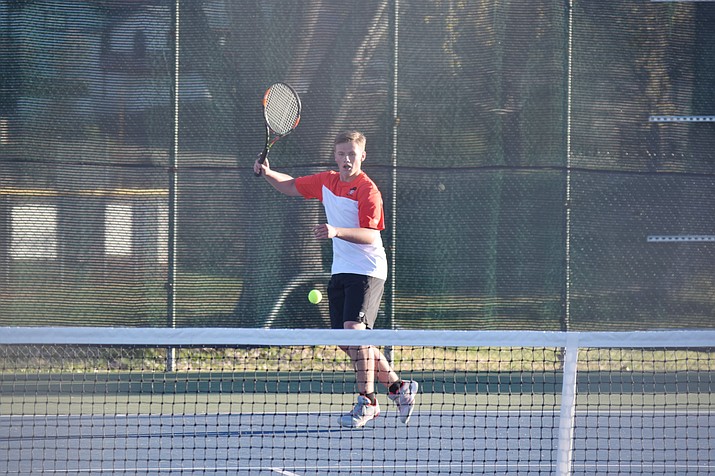 Originally Published: March 11, 2017 1:13 p.m.
Battered and bruised, Mingus Union boys tennis limped into spring break having lost three matches in three days.
The Marauders (1-4) fell to Dysart 8-1 on Thursday after losing 9-0 to Prescott on Wednesday and 5-4 at Lee Williams.
Against Dysart, Mingus Union's No. 1 doubles team of senior Alex Flannery and Caleb Wylie lost 9-8 after leading 7-2. They lost the No. 2 doubles match 8-5 and the No. 3 8-6.
"This week we have not performed in doubles the way we need to to win," said Mingus Union head coach Larry Lineberry. "Had we done that, we had a winnable match here (Thursday), as it turns out they beat us fair and square but they had a couple close matches here, a couple tiebreakers and it was a lot different match from (Wednesday) were Prescott just tuned us, it was 9-0, it was really worse than that (laughs) they were just better."
Lineberry thought if they would've won the doubles matches where they blew leads that the match could have ended up differently.
"We lost a tiebreaker in doubles at No. 1 and we lost 8-6 and 8-5," Lineberry said. "Those were all winnable matches and if we win those, we go into singles with a 3-0 lead, instead of down 3-0."
Flannery lost the No. 1 match 6-2, 6-1, Wylie the No. 2 6-1, 6-3 and junior Nick Rugiero fell in the No. 3 6-3, 6-2. Junior Crue Taylor was the lone Marauder to win, 6-3, 7-6.
Mingus Union started the three-match gauntlet with a close and heartbreaking loss to Lee Williams. The trip to Kingman meant Tuesday was a 14-hour day and the Marauders had to deal with a slew of injuries.
"I think these three in a row was just more than what they're used to and we paid the price for that," Lineberry said.
Lineberry said he was really disappointed for the kids with the loss at Lee Williams, which is four hours away.
"That was the most winnable match we're ever going to have and we lost 5-4," Lineberry said. "We lost two of the three doubles matches when we had big leads in doubles and we lost them and I was really disappointed for the boys. That makes for a long bus ride back."
Mingus Union will take spring break off, though a few players will take private lessons with Lineberry.
He said the wounded Marauders will recover with rest.
"Alex is limping on his leg, his hand is swollen and his shoulder hurts," Lineberry said. "Take three or four days off and he'll be ok."
In addition to the three matches in a row, Mingus Union had four matches in seven days. Their next match will be March 21 at Marcos de Niza and next home match will be March 30 against Barry Goldwater.
Lineberry said he had already decided on the break before the rash of injuries.
"They need a little time off just to get away from tennis," Lineberry said. "We've had a bunch of matches in a row here in the last 10 days."
On the bright side, the second-year head coach said the Marauders are getting better. Last year they only won one match.
"We're improving, we're just not winning yet," Lineberry said. "There's things that I'm working on with certain players that that's what I look for when a match is over, I'm not looking 'did you win or lose?' that's like the third or fourth question I ask when a kid comes off the court I ask them 'how did they play?' 'what did they do well?' and the specific thing they're working on 'how did that perform in that match?' and I get answers from them and all those metrics are improving and we just have to keep working."