Originally Published: March 16, 2017 1:40 p.m.
CAMP VERDE – For about 10 years, Fort Verde State Historic Park has been the home of reenactors playing baseball – even spelling base ball – the way it was done in 1860.
Back then, they were called the Excelsiors. They still are.
Back then, the soldiers would play ball when they weren't otherwise doing any soldiering. Guns were replaced with bats, bullets were replaced with balls, and gloves were replaced with – well, ball players didn't wear gloves back then.
Good thing the ball wasn't as hard as today's baseball.
On the parade grounds of Fort Verde State Historic Park, folks will play base ball on Saturday, March 18 just like they did 150 years ago.
Except the ball players at this year's Spring Heritage Pecan and Wine Festival won't need to put their muskets down before they grab some lumber and take a hack at the ole horsehide.
And since November, the Fort Verde Excelsiors haven't just been reenactors. They've been real ball players – and they play in a real league, the Arizona Territories Vintage Base Ball League. The league was formed in 2007 and is now seven teams strong.
Beginning at 10 a.m. Saturday, Fort Verde will play the first of three games. The Excelsiors, Prescott Champions and Phoenix Senators will each play two games, with game times at 10 a.m., noon and 2 p.m. Each team plays twice, each team sits out one game. The Excelsiors play at 10 a.m. and at noon.
For more information, or to play ball, call Brian Lane, assistant park manager at Fort Verde at 928-567-3275.
Fort Verde State Historic Park is located at 125 E. Hollamon St. in Camp Verde.
Entrance to Fort Verde is $7 for adults, $4 for children ages 7 to 13, free to anyone ages 6 and younger.
Also ask about Arizona residents' Veterans Discount. Call 928-567-3275 for more information.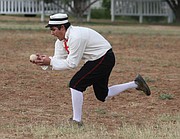 -- Follow Bill Helm on Twitter @BillHelm42 and Instagram @VerdeValleyNews