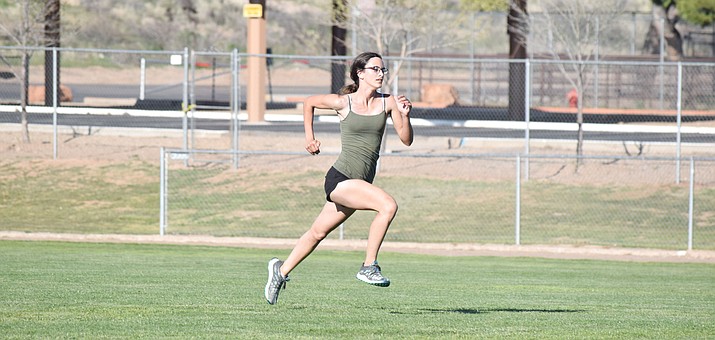 Originally Published: March 18, 2017 1:01 p.m.
Camp Verde High track and field senior captain Alana Neary is not just leading when it comes to performance.
Cowboys head coach Mike O'Callaghan said Neary leads by example and vocally.
"She's done really well, both in her events and just as a member of the team," O'Callaghan said. "She's really stepped up team wise and taken on a good leadership role. She'll get on the kids' case if they're messing around, so it's not always the coach saying 'come one, we gotta focus,' she will take that upon herself to do, to say that."
Neary competes in the 100 high hurdles, 300 hurdles and triple jump and is likely fill in the 4x100 and 4x400 relays.
Neary earned a personal record at Wickenburg to start the season and provisionally qualified for state in the triple jump at NPA Skydome Classic with jump of 29-06.25.
"We're targeting 31 feet," O'Callaghan said. "It'll be a little under two feet total improvement but what the heck? She's agreeing that if you're gonna shoot for it, shoot big, don't just go for inches."
She was crowned Colonel's Daughter last fall.
"In general, she's a great kid, I really like her, outside of the track aspect of it, she's very pleasant, just a nice person to know," O'Callaghan said.
VVN: So how's the season been going?
It's going pretty good, it's going I think better than last because we're building up to the hard stuff and it's definitely better at preventing shin splints. Last year I already had them and that sucked.
VVN: How about for you personally, how has the season gone?
I think it's going good, like I feel better. Like my jumps are already improving and I think by the end of the year I'm going to be like yeah, yeah.
VVN: How tough is it to deal with shin splints? It must be really tough for track and field?
Yeah for track it's hard, but luckily the coaches aren't too hard on us, if we have it they'll have us do our exercises on the grass, which really helps but like once you have them, it's hard to get rid of them.
VVN: How does it affect you? Does it bring your times down or make it hard to train?
It makes it harder to train, like at the actual meet your adrenaline's already going so you can't really feel anything but like it makes it harder to go all out in practice and it makes it harder to get better.
VVN: What's your favorite event?
Hurdles.
VVN: How come?
I don't know, it's just what I'm good at; it's exciting.
VVN: You play any other sports?
No, not any school sports.
VVN: Did you play any other sports before high school?
Not really, in middle school I played a bit of soccer but it was just a little charter school, so I wouldn't count that as much.
VVN: So how come you decided to go out for track?
Because I did it the last year of elementary school and I thought it was really fun.
VVN: How's the team like, it seems like you're really close.
Well I mean when it's a small team that's kinda what happens, so it's either you all get close to each other or it all falls apart.
VVN: What are you into outside of sports?
Well I'm an outdoorsy person in general, like hiking and horse back riding is my kind of thing.
VVN: What's your favorite subject in school?
Probably biology.
VVN: How come?
The animal stuff.
VVN: What's your favorite TV show, you have one?
Yeah it's really lame though, I like to watch Rick and Morty.
VVN: How about favorite movie?
I don't have a favorite movie right now honestly, too many.
VVN: What kind of music do you listen to?
Everything, it's really eclectic, if that's how you say the word, I don't know, close enough.
VVN: Where do you see yourself in five years?
Hopefully still in college, like hopefully I'll find a major that I like, that I wanna get my master's in.
VVN: Where do you wanna go, what schools are you looking at, thinking about?
I'm definitely going to start at U of A, like I've already accepted everything, started that. But I'm hoping that I'm only there like two years max and then I wanna go out of state, I guess just explore.