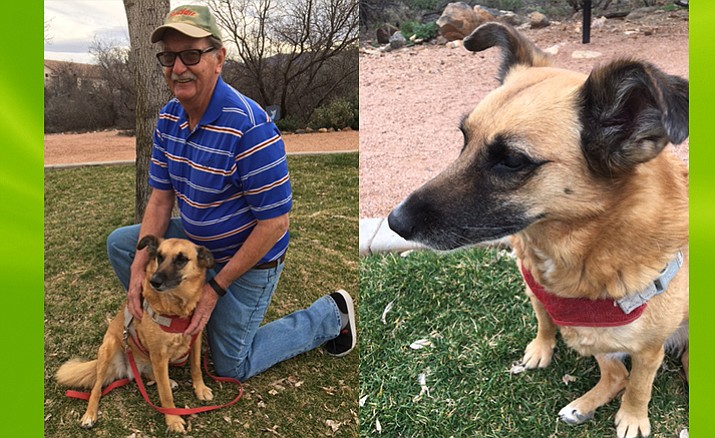 Originally Published: March 18, 2017 12:57 p.m.
COTTONWOOD -- While two major super powers flex their political muscles at each other, a quiet, auburn-haired refugee of sorts is a living bridge between Russia and the U.S.
Belarus is a shepherd mix of uncertain age and parentage who was rescued from desperate circumstances 6,000 miles from Cottonwood by Loren and Marsha Pritzel, who have provided her with love and comfort for eight years at their Cottonwood Ranch home.
Nothing about her story is simple, but "Bella," as she is known around Cottonwood Ranch, seems happy to bask in her middle-class American life style.
Eight years ago, the Pretzels were driving some back roads around Mozyr, Belarus. Loren is a chemical engineer who travels internationally, and Marsha was visiting him in the former Russian republic where he was working.
The couple and a friend noticed a sad, emaciated dog sitting by the roadside with pups cowering behind her. The canine family was living in a culvert and folks in the area apparently tossed scraps to them.
It happened to be July 4 and Marsha declared, "We have to get that dog home. She has to be an American dog." So began an implausible project to adopt a stray dog in rural Belarus and transport her to Arizona.
Marsha had to return home but in Loren's spare time from the project of starting up a new oil refinery, he brought food to the dogs.
"The mother was frantic. She even pushed the pups aside to eat," he explained. Each week, local farmers took the pups as they got old enough to be their "yard dogs," a local term for farm dogs.
Eventually Bella, as she was eventually named, was alone. One day when Loren came to feed her, the grain field surrounding her had been harvested and she was nowhere to be seen. He searched for a week until he spotted her across another farm field.
"I called to her and she ran across the field and jumped up into my arms," Loren said.
As his Belarusian work project was winding down, Loren took Bella to a veteranarian to start her required rabies shots, brought a pet carrier back from a visit to Rome, secured Bella in the porch of his translator's family farmhouse for two weeks and learned that he would need a passport for Bella to leave the country, a complicated task in another city which included an official head shot of the dog.
Then the flight portion of the saga began. Pritzel drove with Bella to the capital city of Minsk, where the dog in her carrier was placed in the cargo bin for the flight to Frankfurt, Germany. All went well until a mix-up on the next leg resulted in Pritzel boarding a plane to Chicago but Bella not being placed on the same flight. He spent the night in Chicago in order to find Bella the next day at the airport.
"I went to customs and couldn't find her, so I called Marsha. While I was talking to her, a dog started barking in a storage room. I didn't know it was Bella, because she had never barked before," he said. But even after 30 hours of traveling in strange places and being met by strangers, Bella could make out the voice of the only human she felt close to, Loren Pritzel.
The two were happily reunited and next trotted to another gate for a flight to Phoenix. The dog crate did not meet the exact requirements for flying in the baggage compartment of the plane, but a sympathetic airline worker modified it to comply.
Even the final leg of the days-long journey presented issues. Pritzel had reserved a seat on a door-to-door airport shuttle from the airport to Cottonwood. That's exactly what he got - one seat.
"The shuttle was full, so Bella had to sit in my lap. But she cuddled the entire way," Pritzel said.
Bella took to her new life instantly.
"She ate everything. She was fully house-trained. She sleeps on the love-seat in our bedroom," explained Marsha, 69. But when Loren left for another engineering job in Norway a short two weeks later, Bella was forlorn, staring for hours watching for her best friend to return.
Now Bella gets long walks twice daily, plays with (and is teased by) Buttercup the Pritzel's cat, travels with the couple in their motorhome and romps every afternoon with the neighborhood dogs at a park in the center of Cottonwood Ranch.
"All people are her friends," said Marsha, watching Bella lope up to a trail walker, tail wagging madly, hoping for a head scratch.
The Pritzels theorize that Bella was owned by someone who tried to get rid of her when she became pregnant and threw her out of a car in the country. She limps on a bum leg and is scared of thunder and gunshots, but otherwise is in good health, although she is slowing down a bit.
When asked if they think Bella is happy now, Marsha says, "Oh my god yes!" and Loren, a man of few words, simply glances down at Bella and grins from ear to ear.
More like this story