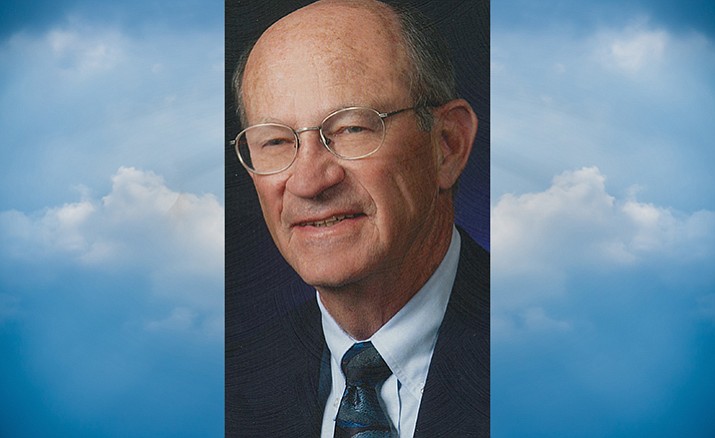 Originally Published: March 18, 2017 6:16 p.m.
Dr. Charles Allen Aeby died February 22, 2017. Chuck was born on October 23, 1939 to Audrey (Bud) Learn Aeby and Stella Emily Wickiser in Santa Fe, NM.
He was graduated from Los Alamos High School in Los Alamos, NM, and completed his Bachelor of Science degree at the University of New Mexico in Albuquerque.
He married Marjorie Ann Roberts on June 21, 1962 in Los Alamos, New Mexico. They have two daughters, Katherine Marie Aeby and Cynthia Elaine (Aeby) Freeman.
Chuck continued his education at UNM and completed a Master of Science in Physics and a PhD in Nuclear Engineering. He was employed by Kirtland AFB in the Weapons Laboratory for the better part of 35 years, moving up through the civilian ranks eventually equaling the level of a Colonel.
His contributions and loves included: coaching his daughters' soccer teams; being an elder/deacon in his church; setting up and participating in Stephen Ministries; volunteering as a Chaplain in the local hospital; camping, hiking, snowshoeing and gardening; golf; travel; singing; and percussion.
He had a deep and abiding faith in his Lord and his hope in life was that everyone he knew and loved would also. He loved his family and friends.
He was preceded in death by his first wife Margie (1/7/1991), his sister (Audrey (Ann) Ingram 6/6/1995) and his parents. After Margie died, Chuck married Margaret Ann Suber. She preceded him in death (1998). On August 3, 2002 he married Claudia Estelle Taylor. They moved to Cornville, AZ to build a new home and live within a golf community. They have lived here 6 ½ years.
Chuck is survived by his wife of 14 ½ years Claudia Estelle Taylor Aeby; his daughters, Katherine Aeby (Durango, CO) and Cynthia Freeman ( (John) Darryl of Austin, TX); his step daughter Genelle Rudd (Michael of Amherst, MA) and step son Jaime Gordon (Stacey of Ellensburg, WA) and their children; niece Lisa Lewis (Jeff of Fort Worth, TX); previous step children (Maggie); and an extended family of great aunts, cousins and lifelong friends.
There will be a service commemorating Chuck's life in Cottonwood, AZ on March 25, 2017 at 1 p.m. at the Verde Community Church. In lieu of flowers, contributions can be made to Verde Valley Christian School; House of Ruth; or Stephen Ministries.
Information provided by survivors.
More like this story