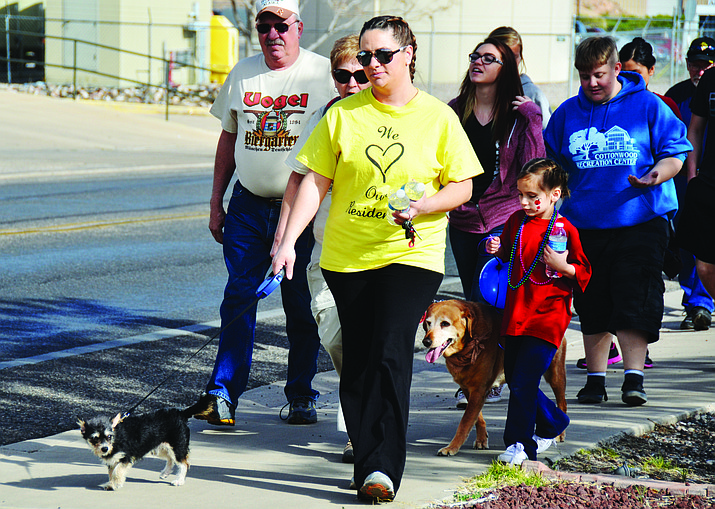 Originally Published: March 18, 2017 noon
9th annual 'March for Meals' planned March 25
The 9th annual "March for Meals" event will be held on Saturday, March 25, 2017. Check in time is 8 a.m. and starting time is 9 a.m. It's a 2-mile walk from the Verde Valley Senior Center, 500 E. Cherry St., Cottonwood at 9:00 a.m. and back. Followed by a pancake & sausage breakfast provided by Randall's & Denny's Restaurant.
Putting the spotlight and focus on the plight of our senior citizens is a mission that needs community support.
Team up on March 25th, mobilize the Verde Valley and walk the walk to raise awareness and collect pledges to support our senior community. Sponsor! Pledge! Walk! Support!
Registration & Pledge sheets are available at the Verde Valley Senior Center 500 E. Cherry St., or at www.verdevalleyseniorcenter.org
For more information contact Brenda England at (928) 634-5450 ext. 231, brenda.vvseniorcenter@gmail.com
J.A. Jance to discuss 'Man Overboard' at Cottonwood Library March 21
New York Times bestselling author J.A. Jance's gripping new thriller 'Man Overboard' will be discussed during a book tour March 21, 3 p.m., at the Cottonwood Public Library, 150 South 6th St.
With more than 20 million copies of her books in print, J.A. JANCE is the perennially bestselling author of the Ali Reynolds series, the J.P. Beaumont series, the Joanna Brady series, a series of Southwestern thrillers featuring the Walker family, and more. 
Born in South Dakota and brought up in Bisbee, Arizona, Jance lives with her husband and their two dachshunds in Seattle, Washington and Tucson, Arizona. 
Community cleanup
Yavapai County Supervisor Thomas Thurman, working with the Public Works Department, is announcing a community cleanup in the Verde Valley.
The cleanup will be at the Camp Verde Transfer Station, 2600 E. State Route 260, 7 miles East of I-17.
The cleanup will be open to Yavapai County residents for no charge on:
March 23-25, 30, 31 and April 1, 6-8 from 8: a.m. to 4 p.m.
Accepted items include household appliances; bagged trash; automotive batteries; unmounted tires; furniture; and yard trimmings. Items that will not be accepted include loose trash; liquids; hazardous materials; cars; Ni Cad batteries; and dead animals.
This program is for residential use only. Commercial loads will not be accepted.
For additional information, contact the Yavapai County Public Works Department at 928-771-3183.
Free conference 'Re-entry and Recovery:  A Second Chance for Life'
A free conference, Reentry and Recovery:  A Second Chance for Life,  will be held at the Prescott Resort, 1500 State Rte. 69, on Thursday, March 23 from 9 a.m. until 1 p.m. 
Returning to society from prison can be complicated for the individuals coming home and for their families. The conference will present success stories from people who have reentered society from prison as contributing citizens. 
The conference will also focus on successful recovery from drug and alcohol addiction. Jeffrey Taylor from SAGE Counseling and Shandra Breed from the Administrative Office of the Courts will provide additional information on reentry services offered in Arizona.
The conference is open to the public and will provide useful information for members of the faith community, human service organizations, medical professionals, treatment professionals, government officials, family members affected by incarceration, family members and individuals affected by drug addiction and any community members interested in learning more about reentry and recovery. 
The conference is free and lunch will be provided but registration is required.  To register please go to www.matforce.org or call 928-708-0100.  
Brian Mickelsen Memorial – A Run for Everyone
April 8 at Riverfront Park in Cottonwood, there will be four running event types to choose from for the 9th Annual Brian Mickelsen Memorial Run/Walk.
A full marathon, a half marathon, a 10K and 2 Mile races will give runners of all calibers a chance to participate in the City of Cottonwood's 25th annual running event. Register now at http://cottonwoodaz.gov/parksrec/bmm or at the Cottonwood Recreation Center beginning.
This race is a tribute to Brian Mickelsen, Cottonwood's beloved former city manager, who passed away suddenly on a training run in 2007.
Come share two of his passions - running and the Verde Valley - while experiencing this memorable and scenic course.
Please check out the website or contact Cottonwood Parks and Recreation at 928-639-3200 or email RBigelow@cottonwoodaz.gov for more information. Or contact Ryan Bigelow for volunteer opportunities.
Loven Family Run at Blazin' M Ranch March 25th 
Lace up the shoes and start training for the 6th annual Loven Family Run happening on March 25 in Cottonwood.
Hosted by the Northern Arizona Healthcare Foundation (NAHF), proceeds from this annual event benefit Northern Arizona Healthcare's assisted living facility, Valley View Care and EntireCare Rehab & Sports Medicine. The Loven Family Run is open to all ages and includes a family 2K run/walk, 5K run/walk and 10K run.
Following the race, registered participants will receive a good-old-fashioned country breakfast at the Blazin' M Ranch.
To register online visit: LovenFamilyRun.com  
10K Run: $35  
5K Run/Walk: $30
2K Run/Walk: $20 or $50 for a family of four        
Additional breakfast for spectators: $8
Race start time is 8 a.m.
For more event information including volunteer and sponsorship opportunities, contact NAHF Special Events at 1-877-527-5291 or email Ashley Hammarstrom Ashley.Hammarstrom@nahealth.com.
Sedona Stumble 5-Mile Trail Run on March 25
The City of Sedona Parks and Recreation Department, in cooperation with Sedona Running Company, will host the first annual Sedona Stumble 5-Mile Trail Run on Saturday, March 25.
Registration is open now, and all ages and abilities are encouraged to participate. The course will take runners through the dirt trails of Posse Grounds Park on a 2.5-mile loop that will be run twice to finish.
The race will start at 9 a.m. on the paved roads of the park to allow the crowd to thin before hitting the narrower, technical, dirt trails of Posse Grounds Park. Included in registration is a custom logo water bottle.
All finishers will receive a race medal and trophies will be given to all age group winners.
Verde Valley School Dream Run set March 25
Verde Valley School in Sedona is excited to announce its first-ever, non-competitive 5K fun run on March 25th. The 2017 VVS Dream Run will begin and end on the school campus, located at 3511 Verde Valley School Road, Sedona, starting at 9 am, and is open to all ages and abilities.
Verde Valley School is located on 300 pristine acres surrounded by the iconic red rocks including Cathedral and the Seven Warriors, and national forest land that extends down to Oak Creek. It's not often that you get the chance to run amongst such spectacular scenery.
The VVS Dream Run is a fundraiser with all proceeds going toward tuition fees for Native American students at Verde Valley School. With sponsors such as the Northern Arizona Trail Runners Association (NATRA), the goal is to raise a minimum of $3,000.
The registration fee is $30 per person and includes an attractive dri-fit t-shirt featuring the iconic Dream Run logo. There is also a reduced fee of $20 for students 19 and under. Registration details can be found online at vvsaz.org/2017-vvs-dream-run or by contacting Dream Run organizer, Leigh Carter at lcarter@vvsaz.org or 520-234-6881.
April craft and vendor sale by Women of the Moose
The Verde Valley Women of the Moose will have a Craft and Vendor Show Saturday, April 1, 9 a.m. to 4 p.m., at the Moose Lodge 1449 Hall, 1051 S. Broadway, in Clarkdale.
The show will benefit Women of the Moose 1854 general fund and Moose charities.
Breakfast, lunch, coffee, ice tea, water and soda will be available for sale by WOTM.
For more information, email Janice Boblitt at vetswife58@yahoo.com or call 217-725-8934.
OLLI Open House in Camp Verde
Osher Lifelong Learning Institute (OLLI) is celebrating the inaugural Camp Verde OLLI Open House on Thursday, March 23 at the Camp Verde Community Library in the Terracotta Room from 4-6 p.m. This event is free and open to the public. Refreshments served.
OLLI offers unique opportunities for adults to expand their knowledge in an engaging community and share the joy of learning and growing.
The Spring semester catalog of classes and workshops will be available. Facilitators are always needed and welcomed. We are all teachers. What are you passionate about? What knowledge could you share with our community? Let us hear from you!
For more information about OLLI, contact Ed Lee at 928-254-3000. For information about being a facilitator, teaching a class, or suggesting a topic for a class, please contact Marie Smith at 928-202-8595. 
County road work tolast through April
Yavapai County will perform construction work on Page Springs Road from Cornville Road to Purple Sage Road; Zalesky Road from Hwy. 89 to Savage Lane; Rolling Ridge Drive in Cordes Lakes; and Antelope Creek Road in Mayer beginning Feb.21 and continuing through April 10.
Road construction will consist of asphalt overlay, shoulder work, and new striping. One lane of traffic will be open at all times in all locations.
12th annual Bob Dylan Birthday Party Concert in May
Old Town Center for the Arts is pleased to host, the 12th Annual Bob Dylan Birthday Party Concert. Bob Dylan was awarded the Nobel Prize for Literature on December 10, 2016, and he and his music will be honored right here in Cottonwood at the 12th Annual Bob Dylan Birthday Concert on Saturday, May 20, at 7 p.m., at the Old Town Center for the Arts in Cottonwood.
Get your tickets early for this historically sell out event. Dylan fans have known for decades that the songs and music of Robert Zimmerman have transcended what songs and music have always been, that they were poetry and commentary and more, and have endured with meaning for over half a century.
Verde Valley Equine Festival 2017
The annual Verde Valley Equine Festival will be held at the Verde Valley Fair Arena in Cottonwood this April. This three-day event is full of professional clinics, a colt starting competition, magnificent exhibitions, shopping, and great food. Located just south of Sedona, the VVEF takes place in a town surrounded by multiple horse communities during Arizona's most beautiful springtime weather.
Exhibitions, training clinics, and informational sessions will take place in five different areas within the fairgrounds: two arenas, two round pens, and a "meet the expert" tent. Throughout the day you can roam from one area to another to experience all that the VVEF has to offer -- we have something happening at all five areas, all day, every day.
For more information, visit verdevalleyequinefestival.com and sign up for one of the participation clinics.
These special clinics give you and your horse a chance to get up close and personal with some of Arizona's leading equine experts. When it is time for a break from all the action, you and your family can enjoy browsing the many shopping vendors and pause for some great local food on site.
Katie Lee Folk Opera: Maude, Billy & Mr. D
From the heart and soul of the old Southwest comes a folk opera by Arizona's First Lady of song and sass, Katie Lee.
'Maude, Billy and Mr. D' is a timeless treasure that is being produced by The Blue Rose Theater of Prescott and will be performed on May 6 at 7:30 p.m. at the Mingus Union High School Theater in Cottonwood.
Tickets are $20 in advance, $25 at the door.

'Maude, Billy and Mr. D' whisks one away on a wild journey of romance, risk and revelation, destined to discover whether true love can overcome the power of death.
The show features performances by some of Arizona's premier musical talents including Tommy Anderson, Chloe Davis, Jody Drake, Peter McLaughlin and Kathleen Williamson.

Don't miss this opportunity to experience how the West was sung through the singular storytelling style of Katie Lee, one of the unique voices in the pantheon of great American folk singers, brought to life by an outstanding professional cast.

For more information or to purchase tickets, call 928-899-5472. Also visit our Facebook page at "Maude, Billy and Mr. D by Katie Lee."

Cowboy poetry at the Clemenceau
The Verde Historical Society welcomes the public to a recitation of cowboy poetry at the Clemenceau Heritage Museum on Friday, March 31, 2017 at 1 p.m. The museum, located at 1 North Willard, holds presentations of historical and local interest on the last Friday of each month.
At the March 31 presentation, Colin Connolly will recite poems by Waddie Mitchell, Baxter Black, Wally McRae, and Bruce Kiskaddon. Their poetry is an enduring chronicle of the people, places, and events in the lives of cowboys and ranchers.

Although cowboy poetry continues to be written, it began with the trail drives that followed the Civil War. According to Connolly, "cowboys sang songs and told tales for entertainment and to relieve the boredom and loneliness of the great trail drives."
For more information about the Last Friday series and upcoming events at the Clemenceau Heritage Museum, contact Betty Gaudy at (928) 634-2868.
Agricultural Fun Day at Rusty's Morningstar Ranch in Cornville
Rusty's Morningstar Ranch will host an Agricultural Fun Day on March 25, 9 a.m. to noon. The activities will include an FFA animal show and exhibit, Equine Care presentation (hoof protection, cleaning, grooming stations), tours of Rusty's Morningstar Ranch and ranch animals, and horticultural exhibits.
Crafts made by the ranches will also be sold. The cost is $5/person (18+) and $3 for children. RMR is located on Libby Lane in Cornville.
For more information contact Stacey at (928)634-4784.
More like this story