Originally Published: March 25, 2017 1:19 p.m.
CAMP VERDE – Camp Verde High baseball looks ready for a key stretch of games, getting healthy and riding an eight game winning streak.
On Tuesday the Cowboys (15-1) beat Tonopah Valley 17-1 in five innings at home and then on Thursday defeated Scottsdale Prep 13-1 in six innings on the road.
Camp Verde scored two runs in the first inning, four in the third, four in the fourth and three in the fifth to rout Scottsdale Prep.
"It was a good game," said Camp Verde head coach Will Davis. "We had an all-around good game, we hit the ball well, played good defense and beat a pretty solid team."
On Saturday night the Cowboys traveled to Payson to begin a stretch of big games. The result was not available at press time.
"Coming up is all our big games, we have Payson, Sedona, Scottsdale Christian," Davis said. "So yeah, we're coming into the stretch here where we got to play all the big boys."
Camp Verde has not lost since early March and has outscored opponents 177-47.
Davis said he likes the Cowboys' chances to do damage against the Longhorns, Scorpions and Eagles.
"I think we're ready to go, we've been getting a little better every day and that's been our motto 'just to stay focused and try to improve just little bits at a time' and it's definitely, definitely coming together," Davis said.
Camp Verde went into the Payson game healthy after players like senior utility player Rafael Zapata (broken hand) and senior pitcher/outfielder Darren Franklin (thumb) missed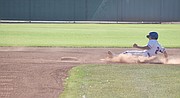 action due to injury.
"Right now we're finally getting healthy this will be the first time all year that we're going to start our best line up," Davis said. "We're going to find out who we are (Saturday), I'm kind of excited."
The Payson game is Camp Verde's last chance to impress the AIA computers before the first rankings of the season come out on Tuesday.
"If we can go out and beat Payson (Saturday) then we'll be top three or four," Davis said. "If we lose to Payson (Saturday), we'll probably be in the mid pack, 10, 12, something like that."
On Tuesday Camp Verde returned from a seven-day spring break lay off and did not show signs of rust.
Camp Verde scored at least two runs in each of their four at bats in beating Tonopah Valley.
Nine Cowboys got a hit and four players got two knocks. Senior utility player Ryan Cain and senior shortstop/pitcher Wyatt Howe had 3 RBIs.
Senior John Castillo pitched four innings, striking out four and giving up three hits.
"They weren't very good, there's not a whole lot to take from that game to be honest with ya," Davis said about the Phoenix.
"Their pitching was average to below average, they didn't field it that well, I don't know if our pitching was that good or they just didn't hit it that well but that was a game that was really hard to gauge how you played."
Up next for the Cowboys is a trip to Glendale Prep on Tuesday. Their next home game is on Friday against Sedona Red Rock at 3:45 p.m.