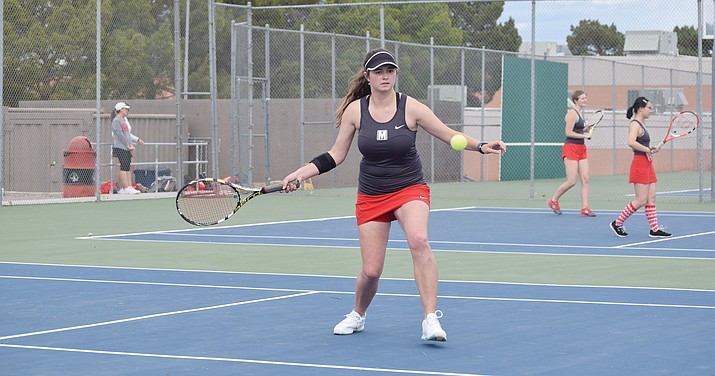 Originally Published: March 30, 2017 3:15 p.m.
Mingus Union girls tennis bounced back from its two match losing skid on Tuesday afternoon.
The No. 19 Lady Marauders (5-2, 1-1 Division II Section II) beat Flagstaff 6-3 on Tuesday at home.
Junior Talon Whiteley led the way for Mingus Union, winning the No. 1 singles match. She lost the first set 6-4, then won the second 6-4 and the tie breaker 10-4.
Mingus Union head coach Andrea Meyer said they took a different approach with this match.
"I especially liked this win of Talon Whiteley at number one because she lost the first set and we pretty much, my assistants and I, pretty much stopped coaching her during the second set because sometimes coaching actually is a distraction for players," Meyer said.
She said it was a "significant milestone" for Whiteley.
"It wasn't a question of skill, it was a question of her settling down mentally and hitting with confidence," Meyer said. "So if you're always at the fence as a coach, reminding the player 'do this, do this, do this,' sometimes a player can't think for herself so we thought it was time for Talon to work through her nerves on the court and by golly, she did it."
Whiteley and junior Emma Williams won the No. 1 doubles match 8-3. Mingus Union juniors Chelsea Clark and Maya Federbush also won the No. 3 doubles match 8-3.
Williams won the No. 2 singles match 6-0, 6-1.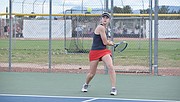 "Emma is doing an outstanding job at number two," Meyer said. "It's a hard position to play, often there is not much difference between the one and the two but Emma really had a convincing win."
Senior Phoebe Chilton and junior Pei-Wen Yang dropped the No. 2 doubles match, but it was a close one, 9-7.
"That match could have gone either way, they played a lot of points, that went to eight, nine, ten balls being hit, a lot of cross court work, a lot of net play and that's what you want to see in doubles," Meyer said.
Flagstaff is ranked No. 47 and has a record of 2-6.
Yang won the No. 4 singles match 6-1, 6-1, continuing to impress Meyer.
"She got an early lead and then in the second was hitting a lot down the middle, so we gave her a correction on that, asked her to use more angles and hit to the corners more and she was able to do that," Meyer said.
In her first match in the No. 5 spot, Clark won 6-2, 6-2.
"She's moving her feet a lot better and she understands where is on the court a lot better as well," Meyer said.
Mingus Union's next match is Tuesday at 3:30 p.m. at home against No. 13 Deer Valley (6-2, 1-2).
Meyer said the players don't ask about the team score during matches generally and were not deterred by the back to back losses to Marcos de Niza and Notre Dame Prep last week.
"But they were not were not discouraged about the losses to Notre Dame and Marcos de Niza," Meyer said. "You couldn't have said at practice if there was any kind of mood change or anything like that, they're just always focused on improving and buoyant personalities and they lift each other up."
More like this story