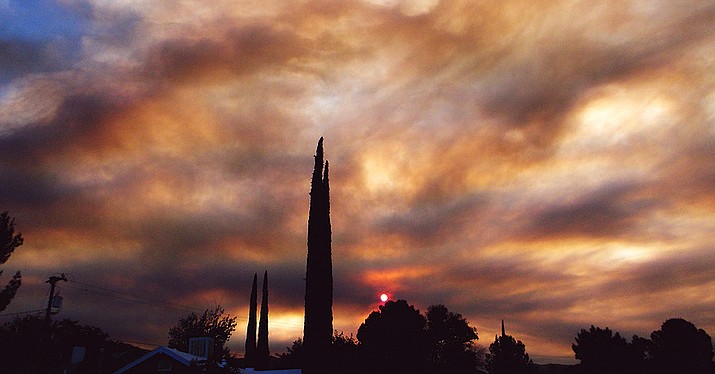 Originally Published: May 2, 2017 2:10 p.m.
VERDE VALLEY –"Now is the time to take action," said Sedona Fire Battalion Chief Jayson Coil, referring to the start of wildfire season in Arizona that's just around the corner.
Fire officials from across the Verde Valley recommend that residents begin to clear away dead vegetation and other debris from around their properties to prevent potential fires.

The Verde Valley received an above average amount of precipitation this winter, leading to an abundance of greenery. While it looks pretty now, it could soon turn to fuel as the days get warmer, drier, and windier.
This could result in wildfires.
"The weather will determine the potential for fires across the state of Arizona this year," said Verde Valley Fire Chief Nazih Hazime.
The season
Fire season varies from year to year, but it usually runs from mid-May until the July monsoons. Sometimes the season can last all the way into September, said Cottonwood Fire Chief Mike Kuykendall.
This year, it is projected that there will be a considerable amount of grassy fuel – growth spawned from a rainy winter which is starting to dry out.
Copper Canyon and Medical Authority Fire Chief Terry Keller explained that the grassy fuel, as it dries out, carries fire well.
"The potential exists," said Coil when asked if this could be a major grassland fire season. The best way to say it, he said, is that it is a loaded gun.
Gearing up
Firefighters gear up and preplan for the season every year.
All agencies are in the midst of preparation, refresher training, gear training, and getting ready for the season, said Keller.
"A lot of internal and regional training, including live burns. This keeps our firefighters competent in their skill levels," said Hazime.
Agencies are also brushing up on the indicators of dangerous fire behavior.
"Every firefighter is a wildfire firefighter," said Coil of his district.
Also underway is code enforcement. Kuykendall said his department is already dealing with weed complaints.
Officials also keep their eyes on forecasts to watch for warm, windy weather and Red Flag Warnings, which are issued by the National Weather Service. A fire district will also gauge what other agencies nearby are doing.
What you can do
"Get educated. 'One Less Spark, One Less Wildfire' prevention is the key," said Hazime.
"What is predictable is preventable. Follow the rules. Use burn permits. Put out fire completely," Hazime added.
Kuykendall encourages residents to keep a defensible space around the home.  
"It's the buffer you create between a building on your property and the grass, trees, shrubs, or any wildland area that surround it. This space is needed to slow or stop the spread of wildfire and it protects your home from catching fire—either from direct flame contact or radiant heat. Defensible space is also important for the protection of the firefighters defending your home," stated the ReadyForWildfire website recommended by Verde Valley agencies. For more information, visit http://www.readyforwildfire.org.
Kuykendall also recommends using propane over charcoal grills, that all grills have a functioning lid that can be closed, locating a grill at least 10 feet away from combustibles, and keeping a garden hose handy. The fire department also encourages people to use extreme caution while using equipment that sparks (grinders, chainsaws), open flames, grills, and fire pits. Also, fireworks are prohibited in Cottonwood, said the fire chief.
On the road, Keller said to be mindful of trailer chains, blown tires, and rim sparks.
On the home front, people should have an evacuation plan in place.
"Papers, pets, and pills," said Coil about preparations.
For more resources, visit: the National Weather Service http://www.weather.gov/fgz/; Incident Information System https://inciweb.nwcg.gov/; National Park Service https://www.nps.gov/aboutus/news/news-releases.htm; https://www.nifc.gov/fireInfo/fireInfo_maps.html; National Interagency Fire Center https://www.nifc.gov/nicc/index.htm; and Yavapai County Emergency Management http://www.yavapai.us/publicworks/emergency-management.