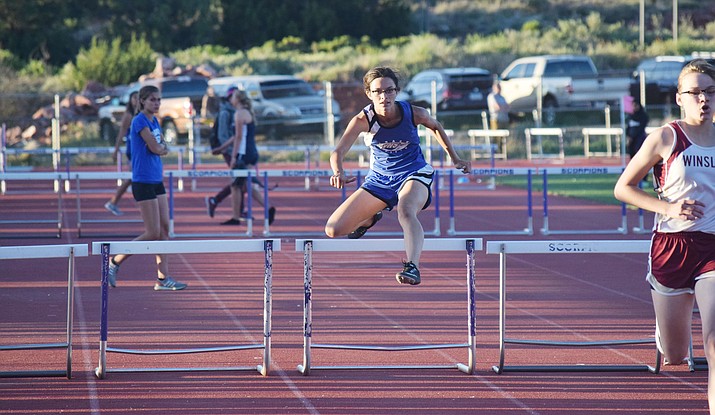 Originally Published: May 2, 2017 12:55 p.m.
Camp Verde High track and field didn't have as much success as they had hoped for at the Last Knight Qualifier at Westview in Avondale last week.
The meet served as last chance to qualify for state but wind hampered the Cowboys' efforts.
Camp Verde track and field head coach Mike O'Callaghan said the meet didn't go as well as they would have hoped.
"That wind was tough, so if you were in a distance race especially, you had to face that buffet every time you came around," O'Callaghan said. "We had a couple of the kids get close but, and I'd say the wind made some of the difference, but you run in the hand you're dealt."
The Cowboys picked a last chance meet that turned out to be quite windy because obviously they didn't know what the weather would be like.
"This one was pretty good last year, so we figured we'd go there," O'Callaghan said. "There was really good competition but on the whole, I'd probably said it didn't go as well and after talking with other coaches, it didn't go as well they had hoped either, so everybody was kinda like 'well you get the wind and that's the way it goes.' We did though on the other had get some good performances."
Mingus Union track and field head coach Yancey DeVore said the wind impacted some of their last chance meet a day later but overall not that much.
Sophomore Eliana Paniagua ran a 2:40.38 in the 800 meters, a personal record by 10 seconds.
"She found out she was running like five minutes before the race because Bryanna (Truett) had done something to her foot and she couldn't run on it," O'Callaghan said. "She stepped up and ran really, really well. She did a really nice job."
Sophomore Damian Wathogoma threw a 109-02 in the discus, a personal record by seven feet, which moved him up 20 sports in the Division IV state rankings.
"It was a great way to end their competitive season," O'Callaghan said.
Junior Nate Schultz won the triple jump with a mark of 43-02.00. He is ranked 10th in the state in the 300m hurdles, sixth in the long jump and third in the triple jump.
Senior Alana Neary ran a 18.14 in the 100m hurdles, a PR. Also on the girls' side, senior Shayla Campbell-Kilburn took fifth in the discus.
Camp Verde ended up with seven girls and three boys heading to the state meet. It will be held this weekend starting on Friday at Mesa Community College.

"It's a little less than I expected," O'Callaghan said. "I thought the two boys relays would have a better shot at getting it but it just didn't happen and again part of that is the hand you're dealt, we had one of the boys a couple weeks back get a bum knee so he's been on light work and not really been able to train as well as you would wish. So all together it just didn't happen for them I thought we'd get the relay teams, so I'm disappointed in that, that they didn't make it there."
More like this story