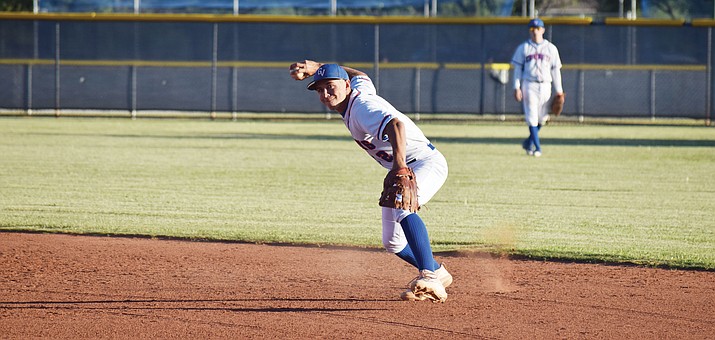 Originally Published: May 4, 2017 1:57 p.m.
Camp Verde High baseball senior Wyatt Howe is leading the Cowboys through the playoffs before he goes on to play college baseball next season.
The No. 4 Cowboys (25-3) open the state tournament on Friday at Goodyear Baseball Complex at 6:30 p.m. against No. 13 Miami (16-11).
Howe is batting .461, with an on base percentage of .561, 26 RBIs and 34 runs. As a pitcher, he is ninth in the state in earned run average (0.85) and has a 5-0 record as a hurler.
"He's a hard worker, puts a lot of time in weight room or on the field," said Camp Verde head coach Will Davis. "One of our guys that come all offseason, one of the kinds of players you wished you had a lot of."
On the field he is second baseman, pitcher and shortstop. Off the field he had a 4.0 gpa as of last semester, was a Camp Verde student of the month last November and owns his own wielding business.
"I'm probably biased since I've known him since he was that big (lowers his hand a few feet off the ground) and have a personal relationship with his family, but he's one of the best kids I know, just a good guy," Davis said.
He is mainly considering going to Bethany College in Kansas or Presentation College, South Dakota.
Davis said it is important for the program to see players like Howe move on to the next level.
"That's huge, especially since there's this misconception that if you don't play at a big school, you won't get seen or you won't have opportunities," Davis said. "If you put in the work and you're dedicated to you craft, the opportunities will come. So I think it's really huge."
VVN: How are you guys feeling right now, after that big win last week?
Howe: It was exciting, it showed us that no matter what the game looks like at that particular inning that we can always come back. That we're not just going to give up like when it gets tough. We had to come back, we knew we had to come back when it was 5-4 and we were down and as seniors we just knew that we had to pursue on and just keep fighting no matter what the outcome of the game was.
VVN: Since they're a playoff team and you're obviously a playoff team, did it feel like a playoff game?
Howe: A little bit yeah, it showed that we can play to our full potential. Yeah we made some errors some innings and that wasn't our best game ever but just the way we played and we came together as a whole and showed just like what we can do in playoffs.
VVN: What's it like having this gap between the games? Is it kinda weird or cool to work on stuff in practice?
Howe: I think it will help us and it's nice that we have two games Friday and Saturday and then we have a week off so that gives our pitchers time to rest and it gives us time to fine tune the little details that we might not necessarily do in these upcoming games and we can fine tune them and just work on what we're missing, just to beat a Joy Christian.
VVN: Is it cool to play in those spring training facilities or would you rather play are school like the bigger schools?
Howe: Yeah I like playing at the spring training fields. It's a big field. It feels like more room to place the ball, like it gives more area in the gaps, it's for us but at the same time it's harder, your outfielders have to work harder, a little bit harder to cover more ground but it's a good experience.
VVN: Do you guys think about who was practicing on this field a couple months ago?
Howe: Oh yeah it's cool just to like talk about "oh, who played here?" because last year we were playing at the Reds or Cubs I think. It's cool to think like one day we could possibly be here" and just playing on the field that those guys played on.
VVN: So how's the season gone for your personally do you think?
Howe: Personally it's gone pretty good I think. I'm hitting a lot better this year than I was last year. My pitching's a lot better actually. I've got 36 innings pitched I think, really locating the ball good this year. Defensively it's going good, now that I've moved over to second base, I've only had one error. Yeah, it's going pretty good.
VVN: How big was that change, moving over to second?
Howe: Well I played most of my games at second and then this year at the beginning, I had moved over to short, just trying to fill in spots, just to see what would work best where. It was just a mental thing mostly, it wasn't that I couldn't play there, it was that I would amp myself up too much and get too like rushed, you know? Moving back over to second, I just feel more calm and fluid, everything's smooth.
VVN: Is second your favorite position maybe? Or pitching?
Howe. Second, second's my favorite. I like to pitch too because like I can calm myself down. I don't put pressure on myself, I know that I can get through any situation. I don't let my mental state get to me.
VVN: What's your favorite baseball team?
Howe: Favorite baseball team's the Yankees, yeah the Yankees are where it's at. Their class, their style, their work ethic and being that Derek Jeter was on that team. He's one of the hardest working players that ever played the game. He played it because he loved the game, not for the money. There might be someone better than him, but he wasn't going to let person out work him.
VVN: What's your subject in school?
Howe: Favorite subject would probably be either math or weights. I like math just because it's challenged me. I've always been good at math but I like people able to work out a problem, go through certain series of steps to get to the final answer. Or weights, I like pushing myself harder, I like seeing where I came from, what more I can become in weights. I always push myself to become just a little bit better than next day.
VVN: How many schools are you looking at for college?
Howe: There's actually four schools that are looking at me right now, two that I could sign with as of right now, South Dakota Presentation and Bethany College in Lindsborg, Kansas. I actually took a tour of them just this last weekend, I was really impressed with the campus, I was impressed with their baseball program, I think it would be a good program for me to go in to.
More like this story