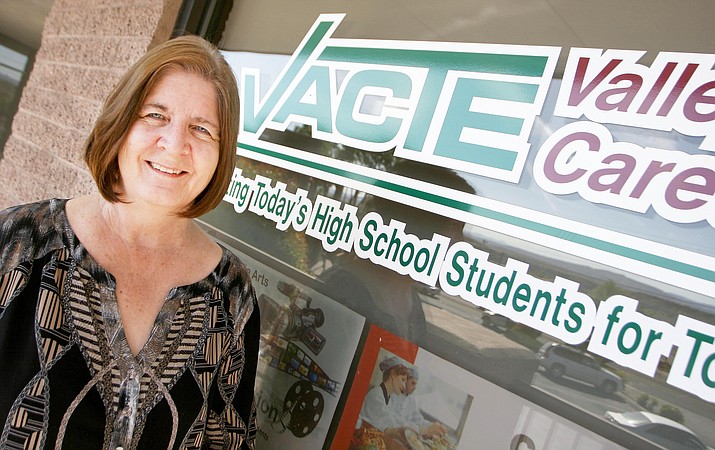 Originally Published: May 11, 2017 4:43 p.m.
COTTONWOOD – A "real role model" is how Donna Green describes her first grade teacher.
"When you're little, you fall in love with those people," she said of Donna Baker, who helped inspire what has become a 30-plus year career in education.
It wasn't just Donna Baker who piqued interest in Donna Green's eventual career. Green's grandmother taught in Sedona and Cornville. And Green's great-grandmother began teaching in Missouri at age 14, before coming to Arizona with her family.
Perhaps the timing was also right for Green to follow her family's career path.
"You have to remember the [lack of] choices for women," Green said. "In my generation, teaching kind of melded with that choice."
So maybe Green's decision to become a teacher was easy. For Bob Weir, superintendent at Cottonwood's Valley Academy of Career and Technical Education, nominating Green as Verde Champions Educator of the Year was also an easy choice.
"Donna has given years and years of service to the youth of the Verde Valley in the educational field," Weir said in his nomination form. "She has a passion for seeing students have the skills and programs to be successful productive adults while in high school and after high school. She has dedicated her time to see students have skills which will help get them employed and keep them employed."
First at Mingus Union as a volleyball coach in 1982, Green became the school's business education instructor, a position she held from 1983 until 2004 when she moved over to Valley Academy.
Working directly for the Verde Valley's career and technical education program became a way for Green to affect the lives of all the area's young career-minded students.
Said Weir, Green believes in the statement 'You get hired for your skills, you get fired for your attitude.'
"She works hard to instill ethics and morals in to the students she works with at the three high schools and the CTE teachers she works with," Weir said.
According to Green, CTE – meaning career and technical education – is the "part of education that shows you the relevancy of what you're doing."
"In CTE, we can show you this is why you sit in that math class, why you sit in that English class," Green said. "CTE makes it relevant, makes the connection to why you're going to school. Gives kids the hands-on skills, so they can see the outcome of their efforts. For me, that's what's exciting about CTE."
With V'ACTE, Green helps teachers both develop and implement curriculum for the program's current central campus courses. Green also organizes and runs the professional development trainings for the counselor and CTE teachers for V'ACTE and its three customers, Mingus Union, Camp Verde and Sedona Oak Creek school districts.
And Green is a student advocate who helps CTE teachers with lesson plans and club activities.
Also serving as organizer of the dual enrollment program for V'ACTE with Yavapai College, Green oversees the state CTE end of program testing for V'ACTE and its three customers, Weir said.
And Green is a Verde Valley Fair volunteer and board member.
But ask Bob Weir, and Green is "the face of V'ACTE."