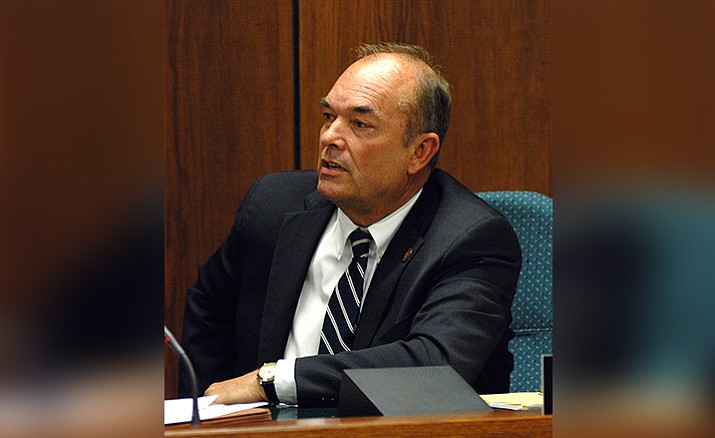 Originally Published: November 10, 2017 2:03 p.m.
PHOENIX -- State Rep. Don Shooter was suspended today from his position as chairman of the powerful House Appropriations Committee.
The move by House Speaker J.D. Mesnard came amid an ever-expanding list of allegations of sexual harassment against the Yuma Republican. Most recently, Mi-Ai Parrish, publisher of the Arizona Republic, said Shooter made a sexist joke while she and her attorney were in his office.
Mesnard, in a prepared statement, said Shooter will not only lose his chairmanship while a special House committee investigate the charges against him.
"He will not be taking any budgetary meetings, chairing hearings, or engaged in any budget discussion or any duties related to Appropriations until the investigation has concluded,'' the speaker said. That takes him out of the loop even as House and Senate GOP leaders are preparing a spending plan ahead of the new legislative session that begins in January.
Shooter declined to comment on the action.
Mesnard said Shooter will receive "a fair, thorough investigation into his behavior'' before any decisions are made about whether a violation of House rules has occurred and what punishment, if any, should be imposed. That could range from a censure to expulsion, the latter requiring a two-thirds vote of the 60 members.
"But I don't believe he can properly fulfill his obligations as chairman of the House Appropriations Committee until that investigation has concluded,'' Mesnard said.
The speaker also said that the inquiry against Shooter is taking on a new dimension.
On Thursday, Mesnard named seven House staffers, including several attorney and members of both parties, to look into the allegations. Now, he said, with the "number and nature'' of those charges, that team has decided to use outside investigators in a bid to get to the truth.
"I support their decision,'' the speaker said.
Mesnard said the team will meet on Monday "to determine what next steps are appropriate in that regard and move as quickly as possible.''
Several legislators have complained about comments and actions by Shooter. Some have occurred since he became a member of the House earlier this year. But some date back as far as 2011 when he was elected to the state Senate.
Separately, lobbyist Marilyn Rodriguez charged that Shooter touched her knee at a dinner where she and a colleague were meeting with him about some legislation. And there are complaints of improper remarks by two other unnamed lobbyists.
There also was a similar allegations by a former Arizona Capitol Times intern.
The most recent complaint came in the form of a column by Parrish about a meeting she and her attorney had with Shooter last year to discuss pending legislation which affected newspapers.
According to Parrish, Shooter said he is an independent thinker and said he had done everything on his "bucket list,'' with one exception. When she asked Shooter what that was, he responded, "those Asian twins in Mexico.''
Parrish, who is Korean-American, wrote that this was "a demeaning, sexual and racial comment to me in his office, in front of my attorney.''
"That's not right,'' she wrote. "And that's the truth.''
More like this story