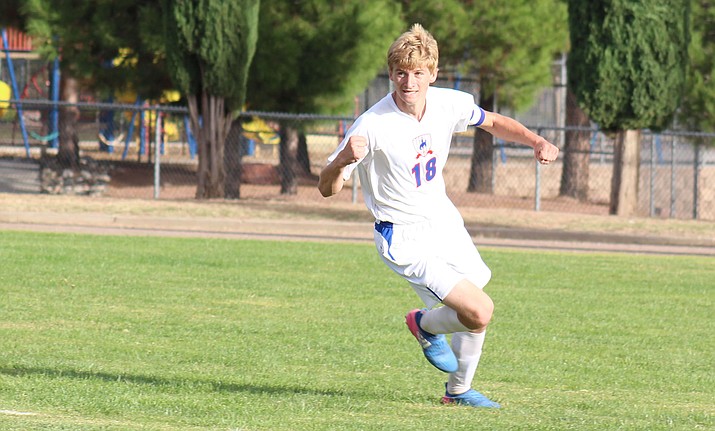 Originally Published: November 11, 2017 12:49 p.m.
Soccer season ended a little earlier than expected for the Camp Verde High boys, but that didn't stop the post season accolades from rolling in.
Three Cowboys were all-state led by senior Nate Schultz who won 2A player of the year.
"It's fantastic," said Camp Verde head coach Dave Miller. "I think that it speaks to the body of work that he's had over the last four years. He's been a dominant player in fall soccer for that entire period and just got better and better. It was nice to see him recognized by the other coaches."
Joining Schultz on the first team all-state side was senior goalkeeper Preston Maynard. Junior forward Joseph Jones was second team.
The No. 3 Cowboys (15-4-3, 6-1 Central) lost in the quarterfinals of the state tournament in a penalty kick shoot out after Maynard was suspended following a red card in the last regular season game.
"I thought the all-state selections were great," Miller said. "I thought we had an early exit and it was nice to see everybody recognize that the experience that the players had, even though we didn't make it that far in the playoffs."
Camp Verde made it that far despite losing 11 seniors from the 2016 team.
As a result, Miller won region coach of the year.
"It's been a while (laughs)," Miller said. "Early on in my coaching career at Camp Verde High School we were extremely successful and recognized for that effort then. It's easy to be recognized when you have a dominating team. I think we, as a coaching staff, not just me, my entire coaching staff, we did a lot considering we lost 11 players with graduation and so I think the coaching staff worked their tails off to get these boys prepared and I think that was recognized by our peers, how much we did considering we lost so many players from the year before."
Schultz was also region player of the year. He was region defensive player of the year last year and this year he was honored as a forward.
Schultz, Jones and Maynard were first team All-2A Central. Seniors Wesley Loveall and Alex Ortiz were second team.
"It reflected our best players in addition to Nathan being recognized for being the top player in fall soccer, it was nice to see Preston Maynard recognized for his contribution," Miller said about the all-region teams. "He was first team goalie all-region, first team goalie all-state. We felt like we had the best goalie in the entire state all year long."
Miller said Ortiz's senior season was really impressive.
"I'd say probably the biggest surprise was Alex Ortiz," Miller said. "This was his first full year and I just think he put forth a great effort the entire year. I thought he did a great job, he really raised the bar and played above his head."
More like this story