Originally Published: November 11, 2017 2:59 p.m.
The City of Cottonwood is getting a new performance venue – kind of.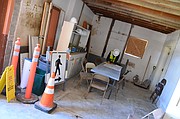 The city's Civic Center, built in 1939, is nearing the end of an $800,000 overhaul, and the city's planner hopes the renovations will encourage people to use the facility for a wide range of uses.
Cottonwood City Planner Charlie Scully said the renovations need to be completed by March 1, 2018, but could be in the next couple of month according to contractors.
The renovations are being funded by two Community Development Block Grants of about $300,000 each, said Scully.
The city agreed to pay about $200,000 towards the project, he added. Asbestos and lead paint removal was paid for by another grant before the general constructed started.
Scully said the building will be have a new sprinkler system, a new air conditioning system to replace the swamp coolers, two new bathrooms that meet ADA requirements, a redesigned kitchen, a stage life, have the suspended ceiling removed and a new one put in, and generally cleaned up.
Even the window caulking had to be re-glazed, he added.
Scully said he would like the city to get funding to finish one more step – that is upgrading the technological capabilities on the building.
This would allow the historic building to host more functions from the community like conferences, meetings and performances, he pointed out.