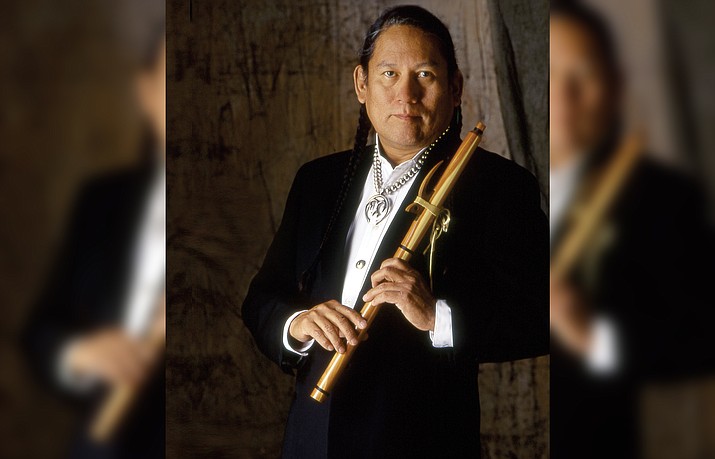 ---
---
The world's premier Native American flutist, R. Carlos Nakai, is the headline performer for the Verde Valley Sinfonietta's first concert program of its 13th season - "Nakai in Concert."
The concert is a collaboration with the Verde Valley Archaeology Center and celebrates Native American Heritage month.

The event is unique because it features music, Native American dancing and video backdrops. Mr. Nakai will bring with him well-known Arizona percussionist Will Clipman to augment the orchestral and cedar flute sounds with Native American percussion instruments.
Award-winning Chickasaw "classical" composer Jerod Impichchaachaaha' Tate will bring two of his works to the second half of the concert.

One is a narrative work based on a Native American folk tale -- "Spider Brings Fire" -- designed for a family audience. Local actress/musician Shondra Jepperson will narrate the work. The other is entitled "The Indian Spirit at Mesa Falls" and clearly exemplifies Tate's use of Native American musical influences in classical music.
The event also includes a Native American dance exhibition by the Indigenous Enterprise Native American Dancers. Newly appointed Sinfonietta Music Director Kevin Kozacek will conduct the program.
The first performance of the "Nakai in Concert" event is on Saturday evening, November 18, at 6 p.m., at the Phillip D. England Center for the Performing Arts on 210 Camp Lincoln Road in Camp Verde.
The second performance is on Sunday, November 19, at 2:30 p.m., at the Sedona Performing Arts Center (SPAC) located at the Sedona Red Rock High School on Upper Red Rock Loop Road.
Tickets for both performances are available online at the Sinfonietta website: VVSinfonietta.org. Reserved seats at the SPAC are sold out. Also on the website are tickets to "Backstage" Meet & Greet events after each performance where attendees can meet R. Carlos Nakai and Jerod Tate.
Nakai, originally trained in classical trumpet, was given a traditional cedar flute as a gift after he had been injured in a car accident and could no longer pursue the trumpet.
Since the early 1980s, he has released more than 50 albums, been nominated for eleven Grammy awards in four different categories and earned a Governor's Arts Award.

He has earned two Gold Records for Canyon Trilogy and Earth Spirit. Canyon Trilogy reached Platinum status (over 1 million sold), the first time ever for a Native American artist performing traditional solo flute music.
In addition to his solo appearances throughout the United States, Europe and Japan, Nakai has worked with guitarist William Eaton, flutist Paul Horn, composers James DeMars and Phillip Glass and various symphony orchestras.
His career has been shaped by a desire to communicate a sense of Native American culture and society that transcends the common stereotypes presented in mass media.
According to the Washington Post, Oklahoma composer Jerod Impichchaachaaha' Tate has been praised and honored for "his ability to effectively infuse classical music with American Indian nationalism."

He earned degrees in piano performance and composition from Northwestern University and the Cleveland Institute of Music, from which he received the 2006 Alumni Achievement Award. Tate has received numerous commissions and received performances by the National Symphony Orchestra, Detroit Symphony, Minnesota Orchestra, Buffalo Philharmonic, Colorado Ballet and Santa Fe Chamber Music Festival among others.
He has received awards from "Meet the Composer" and is a current recipient of the League of American Orchestras' "Music Alive" residency program. In 2011 he received an Emmy Award for his work on the Oklahoma Educational TV Authority documentary, "The Science of Composing."
The November concerts represent a departure from the Sinfonietta's usual programming, and are supported by grants and contributions from the City of Sedona, the Arizona Community Foundation of Sedona, the town of Camp Verde, Bill and Liz Sweeney, APS, Canyon Records, Sedona Monthly Magazine and other donors.
During the week preceding the concerts, composer Tate will be visiting Sedona schools and the Yavapai/Apache Nation in Camp Verde to conduct music workshops. Students from the Hopi Nation will also travel to Camp Verde to work with him.
Tate has been composer in residence at several prestigious workshops including the Joyce Foundation/American Composers Forum, teaching composition to American Indian high school students in Minneapolis.
A number of concert tickets for local families attending with children under 18 are available without charge by contacting the Sinfonietta board president at 928-204-6419.
For more information, please visit the Sinfonietta website: VVSinfonietta.org.