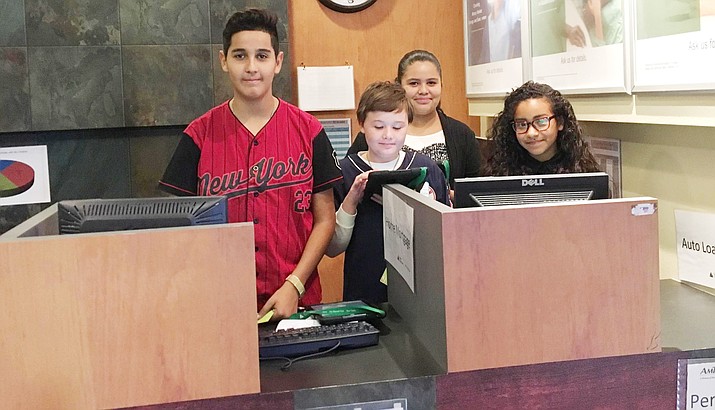 Originally Published: November 16, 2017 1:16 p.m.
From Principal Katrina Sacco:
Our Veterans Day concert showcased our students' talents and hard work, all classes did an excellent job!
Our students also honored veterans and developed a deeper understanding of the sacrifices made by others who ensure safety and security to all U.S. citizens.
Mrs. Guth was honored in the Bugle as a remarkable teacher. She is a wonderful asset to our school, and this recognition was a great tribute to her work.
Mrs. Cowan, Mrs. Martinez, Mrs. Wheeler, Mr. Worden and myself met with Pastor Ken Miller to discuss how they can support our school. They are working with us to bring more supplies and books to our classrooms, and we are very grateful!
Our November staff training focused on the effective use of the data we receive from NWEA's MAP Growth assessment.
We learned how to use it to make meaningful improvements in our grouping and instruction.
Our new instructional media program, Moby Max, is gaining in popularity around campus and it is helping teachers differentiate instruction to meet the diverse needs of all students.
Our crew welcomes Mrs. Laura Bleak as a new fifth grade paraprofessional. She comes to us with a great passion for improving the lives of children and we are delighted to have her.
The American Legion donated new flags for our campus, and John Maddox spoke to our students about the symbolism and importance of the flags.
This was a great way to lead into our Veterans Day education.
Margee Cowan from College & Career Readiness:
The field trip to the Junior Achievement Center in Tempe was once again a success for the 7th graders in Biztown.
This is truly life-changing as students learn how to maneuver through life in the simulation given to them.
Allie Wheeler from athletics, art and the 21st Century Learning Program:
Our volleyball team finished the season first in the league and took second at the league tournament.
This allowed them to go to small school state volleyball tournament, where they placed 4th against the best small schools in northern Arizona.
This is the first time for Beaver Creek since 2004. Shelly Warfield was awarded first-team all-tournament and Makela Martinez was awarded second-team all-tournament at the small state tournament. 
The 21st Century Tutoring has begun, we are serving about 40 students during this time.
Our focus is on math and reading instructional interventions. 
Art: 6 and 7 grade finished their interpretation of Van Gough's sunflowers. They turned out beautiful. 
Superintendent Karin Ward says:
As we count our blessings this Thanksgiving, for me this school district and every department is blessing.
Patricia Garitson the service manager has a great staff focused on feeding students well-balanced meals.
Diana Iverson, and her crew balances a spotless campus (the Yavapai Health department raves about it at the annual inspection each year), and transporting students safely on the buses to and from school and on trips.
Katrina Sacco and her school team work to make sure each student has a quality education that meets his or her own needs.
The staff uses data to drive teaching and learning decisions.
The office staff under the direction of Sharon Brooks continues to take care of everything from band aids to payroll.

We are appreciative of the community for the continued support to our school and children.
We hope people remember Beaver Creek School during tax credit season.