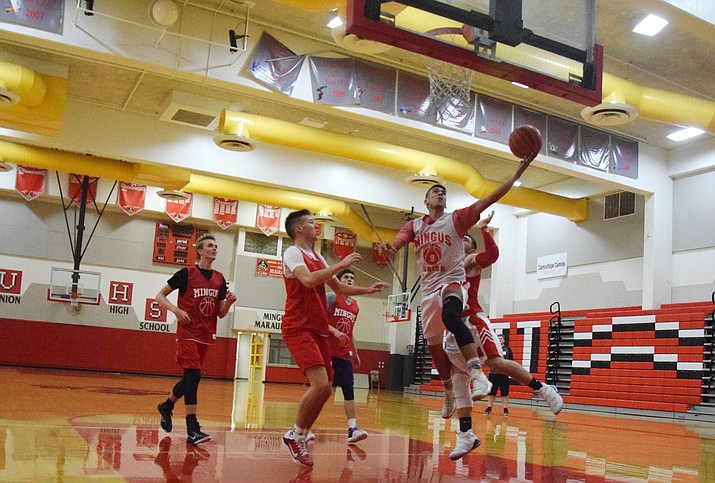 Originally Published: November 16, 2017 2:42 p.m.
Mingus Union boys basketball is loaded with seniors and unexpectedly deep but not necessarily experience.
The Marauders start the season on Friday at 5 p.m. when they host a 4-way scrimmage.
It will be Mingus fans' first glance at the new look Marauders.
"We kinda went into the summer with four seniors in our program and we have nine tonight," said Mingus head coach David Beery.
Since last season ended, seniors Martin Soria, Tyler Kelly, Jose Pacheco, Kyren Kirton and Chase Saczalski have joined the program. Soria transferred from Williams, Saczalski from Sedona Red Rock and Kirton is a 6-8 center. Soria and Saczalski won't have to sit out any basketball games.
Plus senior Kaynen Loring potentially could have graduated early so Beery didn't know if they would have him this year.
"We've had some unknowns that have been filled somewhat recently," Beery said.
The added depth means the Marauders can play fast paced and aggressive on defense, even in a zone.
"We're looking good, defensively especially," said senior Michael Bryan. "We're long and athletic. We're going to be good, we're pretty set at all positions. We're deep too, so we can definitely get after it this year, be aggressive."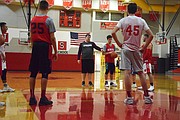 The Marauders don't have a lot of bulk but can move.
"We're going to play fast paced again," Beery said. "Most of our tall guys are pretty slight, but they also move pretty well for their size, so I think that's where our strengths lie at this point."
Soria was honorable mention All-Grand Canyon in football and Kelly was region player of the year in football and last week signed with New Mexico baseball.
Although those two football players are dealing with injuries, thumbs in Kelly's case and wrist and ankle in Soria's case, their addition has Bryan and Beery excited.
"There's always kind of the youth versus older guys things with the seniors we have, they've been leaders and they've been working hard and so we kept nine seniors," Beery said. "With Tyler and Martin specifically, they're going to give us a huge boost, they really are both are leaders on the court and they're both super competitive and so far they've both really been impressive, just as people in our program as well as in practice on the court."
In addition to the new players, senior Bryce Cramer, already one of the Marauders' top shooters, has gotten even better after losing about 25 pounds. Beery said he can "move better than he used to and has been shooting the lights out in practice."
However from last year's squad, the Marauders lost Miles Tapija, first team all-region, Issac Escalante and Chase Paquin who were second team. Current senior Chaz Taylor was honorable mention.
Taylor and Bryan are the only seniors with much varsity experience at MUHS.
"We're old but we're young if that makes sense," Beery said.
Bryan said the new players have fit in well and already just like family.
"We had a lot of growing this summer I guess you could say," Bryan said. "A lot of people showed up, especially people we didn't have last year, like Jose and Martin, they didn't play last year and they showed up and made a difference, you could tell."
The Marauders open on the season on Tuesday when they host Dysart at 7 p.m.
"Our schedule is real tough," Beery said. "We open with Dysart, who are super athletic, we play Higley again, who has two I think Division I prospect transfers or something like that, so our out of section schedule is extremely difficult this year and I think our section is really= just really, really open."
Beery said Flagstaff who had been the best in the region, lost a lot, Mohave returns player of the year in Joe Heath, Coconino is well coach, Bradshaw Mountain and Prescott are always athletic and Lee Williams has improved immensely.
"I don't think there's a team in it that we can beat by 20, I don't think there's a team in it that can beat us by 20 consistently," Beery said. "There might be a few games that get away from people but I think every game's going to be a dog fight."
After they started the season slow and came on stronger late the last few seasons, Bryan thinks they can begin the season well this year.
"Usually we have a team meeting towards the middle and we just starting playing as a team and we really start balling, playing good," Bryan said. "People's shots start falling, defense starts clicking and we start looking good but this group has been together pretty much all summer, so I think we're all good and have good chemistry so I think we'll start pretty good."