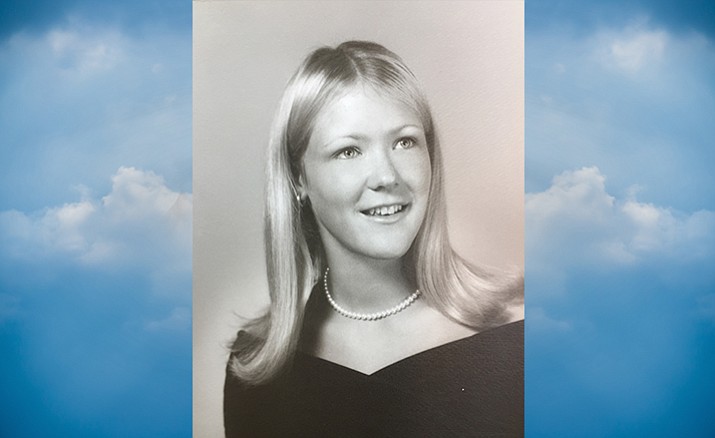 Originally Published: November 16, 2017 12:59 p.m.
Katherine Hope Williams, sister, mom, grandma, and hope-giver, passed to the sounds of coyotes early Monday morning, November 13, 2017. Better known locally as Krazy Kate, Katy was born in Provo, Utah, March 9, 1951.
After spending her early years in Utah, she found herself in Palo Alto, CA where she grew up in the heart of the 1960s. She was unstoppable, ripping around the the Bay Area in a green cream-topped mustang with dented chrome pipes, living wild, and dragging her baby brother kicking and screaming to swim class.
She found love on Principia College Campus and married George Lee Williams in 1974. As a drama major, she loomed large, laughed lots and kept things exciting. She reared five strong children and we never knew what to expect next. During the long summer evening hours, she let us roam through the neighborhood as long as we stayed within reach of her perfectly piercing whistle. Halloween was a favorite holiday and she often scared the living hell out of us with her cackle, dressed up as the Wicked Witch of the West. She could be terrifying. As time went on, our love seemed to slow her down or maybe it fueled her. She wanted to fly so fast and so far and all of us -- her five kids and husband --had to let her go. She set off for the golden cliffs of Sedona.
After a sage smoke infused journey, Katy took the streets of this central Arizona town like a face painted foot stomping storm. We don't really know what spirit walkers are like, but we're damn sure that she did them justice.
Here on the streets of Cottonwood and Sedona she stood side by side with the hurt, homeless, and lonely.
Over time, she slowed down (for which the local law enforcement and guidance counselors were thankful), but she continued to connect with people in need and stay close to family.
We'd like to say thanks to the community for making this place her final beloved home. More than a few times we tried to move her closer to family, but she never took us up on the offer. Cottonwood was her home and the residents her family. She loved us as much as she loved this place. A special thanks to the amazing and loving staff at Haven of Cottonwood. To say that she was survived by her family would miss the mark; she is survived by anyone who knew her.
Instead of flowers, please consider making donations to Georgie's Cafe -- a favorite haunt -- in her name for their annual free Thanksgiving meal. We plan to schedule a celebration of her life next spring. If you'd like to join us or have a crazy story to share, please send a note addressed to Katy Williams' Kids, 1630 Woods Court, Hood River, OR 97031. Thanks, Katherine Hope Williams, for living with hope and reminding us to take a smoke break every once and a while.
"If you want to sing out, sing out, and if you want to be free, be free." - Cat Stevens
Information provided by survivors.
More like this story