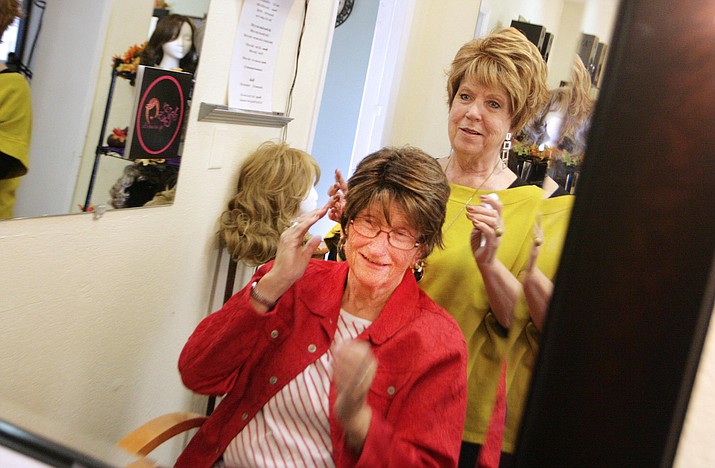 Originally Published: November 18, 2017 3:21 p.m.
CAMP VERDE – Linda Jo Safford says her resume looks more like an adventure novel.
From hair dresser, to Yavapai Deputy, to peace officer, to property manager, to working with victims of domestic violence, then activity director for a 55-and-older community, Safford now owns and operates Jazzy Gal's Wigs and More.
One thing consistent with her career choices, Safford likes to work with people.
"If I can help others, as well as have fun, that is my choice," the Camp Verde resident says.
Though Safford is new to the wig business, she has worked "in many aspects of the beauty industry for most of my adult life."
Safford says that this past year she has become more interested in "the advantages and improvements of wigs."
"Aside from the cosmetic benefits afforded professional women and men, entertainers, and women that want to enjoy the convenience of wigs, I know I can provide a service to women suffering the results of chemotherapy and women experiencing alopecia," Safford says. "A woman's self-esteem is frequently attached to her appearance. If I am able to help women and children feel better about themselves, add a bounce to their step, then I have done my job."
Jazzy Gal's Wigs also offers a wig exchange for cancer victims. Safford says that she will accept a gently-used wig, refresh and sanitize it and for the minimum cost of the shampoo and conditioner, will give the wig free to women suffering hair loss as the result of chemotherapy.
Open since Oct. 1, Jazzy Gal's Wigs and More offers retail sale of wigs, hair pieces and related merchandise and is located at 489 S. Main Street, #3 in Camp Verde, inside the Style Up! Salon.
Hours are 10 a.m. until 5 p.m. Tuesday through Friday. Call (928) 567-6788 for more information.
-- Follow Bill Helm on Twitter @BillHelm42