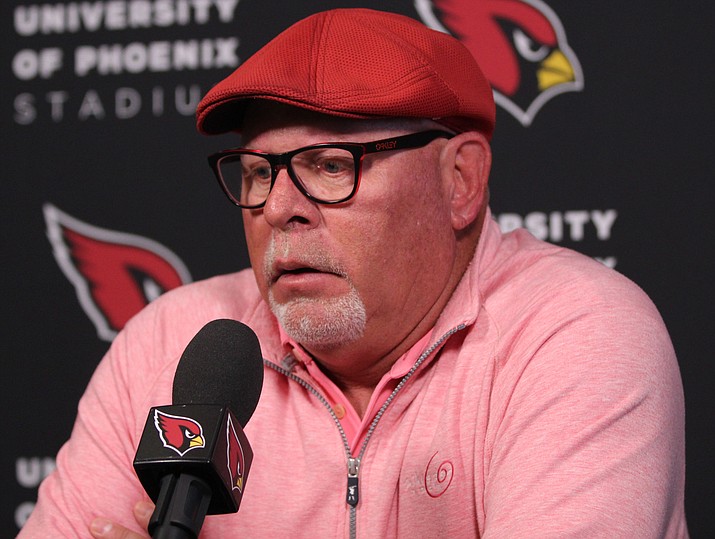 Originally Published: November 22, 2017 10:40 a.m.
TEMPE — Arizona Cardinals coach Bruce Arians made it clear Monday that football is a performance-based business.
Play well and secure more playing time. Don't and others will be given an opportunity.
Backup quarterback Blaine Gabbert played well enough to be the starter for at least another week following his regular-season debut against the Houston Texans. Gabbert completed 22 of 34 passes for 257 yards, three touchdowns and two interceptions to go along with a 92.4 passer rating during Sunday's 31-21 loss.
"(Blaine Gabbert) saw the field extremely well," Arians said. "The ball was where it was supposed to be. Every throw wasn't perfect. There was some pressure, but he stood in the face of it and delivered it.
"You get to the end of the game throwing to a couple guys you have never thrown to before and they're this far behind them, instead of that far in front of them, just because of a lack of reps with that guy, but was to the right guy. Those are probably on me, but he played really really well."
While Arians was pleased with the play of Gabbert, the same could not be said for the play of his wide receivers, with the exception of Larry Fitzgerald.
"I watched J.J. (Nelson) and he makes two of the toughest catches that you could possibly make and then drop an easy one," Arians said. "It's all eye position. … John Brown's was just, you got to make a low catch, that was an easy catch.
"It's hard to describe because there's so much talent in that room, and the way they went through OTAs and all of camp, I really thought it was the strength of our team and it's now become our weakness. … This group is too old now for that. They've been in too many battles to be dropping easy balls, and not making plays."
In addition to struggles catching the ball, the Cardinals also had trouble establishing the run as Adrian Peterson only had 14 carries for 26 yards. There was also a key moment in the game that proved to be a huge momentum shift in Houston's favor.
During the fourth quarter, Arians decided to send his offense back out onto the field to go it for it on 4th and 1 in Cardinals territory with the team down 24-21 with more than six minutes remaining.
The play call was a Peterson run, which was stopped short of the first down. One play later, Texans running back D'Onta Foreman scored a touchdown, giving the Texans a 10-point lead.
Right after the game, Arians said he regretted the fourth-down call and that it was a bad decision.
However, on Monday, after watching the film, Arians thought differently.
"The fourth-down call, I take all that (expletive) back that I said yesterday," Arians said. "That was a damn good call, and we busted an assignment at the point of attack. That was a easy pick-up. (Offensive coordinator Harold Goodwin) had a hell of a play designed, we called it and we busted an assignment. They did not whoop us up there, we just turned them loose — the interior of our offensive line."
Shifting from the negative to the positive, one player who had a nice day was tight end Ricky Seals-Jones, as he caught three passes for 54 yards and two touchdowns.
With some of the receivers struggling, John Brown suffering a turf toe injury and the recently announced release of running back Andre Ellington, Arians said he will be looking to other players, like Seals-Jones, to step up.
"Injuries are going to have some part of that, but it wouldn't have mattered and Chad Williams is going to get his shot," Arians said. "He's been practicing really really well, just like Ricky. Those guys have been practicing really well, and it's time for them to get a look.
"(Blaine) has a lot of chemistry with Ricky and Chad because that's who he threw to every single day, so there's a lot of chemistry there."
More like this story