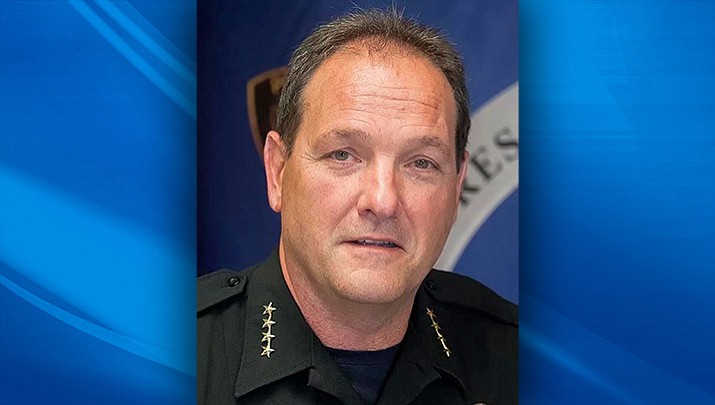 Originally Published: November 25, 2017 2:29 p.m.
PRESCOTT VALLEY – Prescott Valley Police Chief Bryan Jarrell lost his service weapon, apparently leaving it in a public restroom over the Veterans Day holiday weekend, before he realized it was missing and reported it.
Jarrell said he had been in uniform at a Prescott Valley Town Council meeting on Thursday, Nov. 9.
"I went into the public restroom at the library (where the meeting was held) to change clothes, because I was going to a basketball game, and I was in a hurry, and there is no excuse, I left it," he said.
He said that, because he doesn't normally carry his gun while off-duty, and the following day was a holiday, he didn't realize he'd left it in the restroom until Monday, by which time it was gone.
"I immediately made a report and put it in the nationwide computer system, and we're trying to follow some investigative leads and see if we can track it down," Jarrell said.
Town Manager Larry Tarkowski said, "He's going to be getting a letter of counseling, and in addition to that he's going to be made to reimburse the town for the loss of town property.
"That's exactly what we would do with anybody else," Tarkowski added. "We're not treating him any differently than anybody else."
When asked what disciplinary measures would be taken for an officer in his department who lost a gun in a similar fashion, Jarrell said, "It depends on the circumstances surrounding the loss of the property. The repercussions could range from an admonishment to be more careful and a notation in their file, up to more punitive measures."
Jarrell said rumors that had been swirling on social media and via text message that the incident was being covered up were wrong.
"It's just a simple mistake – obviously, it's a serious mistake, because of what's involved," he said. "Just because I'm the chief doesn't mean I'm immune to mistakes."
We are following up on our investigative leads but we would certainly welcome information or help from the public so we can recover this weapon," Jarrell said.
The handgun is described as a Glock 19, 9mm caliber and black in color, serial number YHC 944.
Anyone with information regarding the whereabouts of this firearm is asked to contact the Prescott Valley Police Department at (928) 772-9261.
$500 reward offered for return of police chief's missing gun
The Town of Prescott Valley offered a $500 reward on Tuesday for the return of a handgun that was misplaced by Prescott Valley Chief of Police Bryan Jarrell on Nov. 9 at the Prescott Valley Public Library.
The gun is a Glock 19, 9mm caliber and black in color. The serial number is YHC 944.
If you have information on the whereabouts of the weapon call Yavapai Silent Witness at 800-932-3232. You do not need to identify yourself. The reward will be in cash.
Chief Jarrell said that he left the gun in a public restroom when he changed clothes after appearing at the Town Council meeting. Police have been investigating the loss of the gun for more than a week.
A statement from Chief Jarrell on his missing gun
As chief of police, I take full responsibility for my negligent actions that resulted in the misplacing of my service weapon. It is an uncomfortable feeling to have lost something as important as a firearm, especially for a person who has dedicated his life to serving and protecting the public.
Immediately upon discovering that the handgun was missing, I reported it to the Town Manager. I filed a police report and investigative leads were, and are, being followed. We had hoped that our investigation would have been successful, however; at this time we are requesting help from the public as we continue our efforts.
My priority now is locating the firearm, and any information that assists in this endeavor would be appreciated. I feel badly over the loss of this service weapon, even more so since I have never experienced this type of incident in my 33-year career. I realize that being the chief of police does not render me immune from making mistakes and I will continue to perform my duties to the high expectations that this community deserves.
More like this story