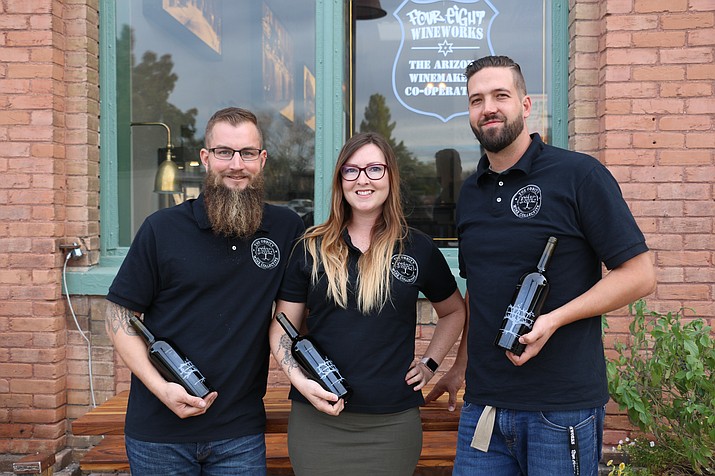 Originally Published: November 28, 2017 1:58 p.m.
CLARKDALE – An entrepreneur, a visionary and a mad scientist are the brains, the labor and the love behind the Oddity Wine Collective, a wine label born in the early days of the Yavapai College teaching winery -- the Southwest Wine Center.
About four years into their friendship and partnership, the trio of YC winemaking program alumni are selling out vintages while making a name for themselves and for their label in the Verde Valley's burgeoning wine industry.

The entrepreneur, Cottonwood native David Baird, was first in the door at YC. He was studying business when the SWC materialized next to the YC Verde Valley campus in Clarkdale in 2013. "I found out about the wine program there. I had the background so I jumped into it," said Baird, who was managing a restaurant in Jerome at the time.
Prescott College graduate and food industry veteran, Aaron Weiss made his way to YC's fledgling winemaking program later, lured by an appreciation of wine and the opportunity to pursue winemaking as a livelihood. He went all in after taking a wine-tasting class at YC, commuting from his home in Prescott to the Clarkdale class weekly. "I decided I was ready for a change in my life. I decided to go back to school," said Weiss.
Arizona State University graduate Briana "Bree" Nation arrived at YC on the heels of a California vineyard internship and excited about the notion that, with some education to supplement her ASU studies in sustainable agriculture, she could choose a career in the wine industry. "I loved working in the vineyard and I decided this is what I want to do with my life," she said.
The seeds of the trio's partnership were planted when Baird and Weiss met in class. Baird recalled asking Weiss, "What are you doing here? What is your plan?" Weiss replied, "I'm going to be a winemaker someday." Baird's response to that: "If you ever need any help, let me know."
Nation, meanwhile, initiated conversation with Weiss during classwork in the SWC vineyard. The two have been paired romantically since.
It took some intervention from Verde Valley winemaker, industry mentor and promoter Maynard James Keenan before the three YC students with varying talents and a shared interest in wine seriously considered starting their own label.
Keenan, who operates the Four Eight Wineworks cooperative in Clarkdale, went looking for a top student from the Southwest Wine Center's first graduating class to fill a vacancy at the cooperative. He found the visionary Weiss and, having already hired Baird to manage the cooperative's tasting room, encouraged the two plus the self-described "mad scientist" Nation to start making their own wine.

The Oddity Wine Collective was born as the trio mulled the proposal to join Four Eight Wineworks over shots of whiskey – not glasses of wine -- one night. "We acknowledged each others' strengths and saw the potential for a good team," Baird said. "This was an opportunity you don't pass up," added Weiss.
The label name presented itself after months of debate and several other ideas were found to already exist. "The name has really made sense for us and our wine. The three of us are fairly normal people, but the blends we've made are off the cuff. They're not usual. They're untraditional, unconventional," Nation said.
The three YC alumni, all of whom maintain separate, full-time jobs in the wine industry, spent long, laborious days and nights at a Camp Verde production facility to get their product from barrel to bottle. A first vintage was released in 2016. This fall, Oddity released three new reds – Darwin's Dilemma, Chimera and Datura – and doubled the previous year's production. All three new wines and previous vintages still in stock can be found at Four Eight Wineworks and in stores and restaurants across Arizona.
"It's an oddity… for something to be received so well. The process has been good. That's odd. The fact that we built success with our second release is an oddity in this industry," Weiss said. "If you asked me two years ago or three years ago, there's no way I would have thought we would be in this position."
Nation expressed pride in what she and her partners have accomplished in a relatively short time. "It's challenging. I like that about it. It makes it that much more gratifying at the end of the day, that you really worked hard for the product," she said, adding, "I'm really happy with the wines we have made and I'm sad when they're gone."
For his part, Baird is happy he and his partners seized an opportunity to combine their individual talents. "These guys make the wine. I just make sure we pay the taxes," he quipped.
The three former YC students agreed the college and the connections they made there have been key to their early success. "We know we wouldn't be here without the support of the industry, our friends, Four Eight and (Yavapai College instructors) Nikki (Bagley) and Michael (Pierce)," Weiss said