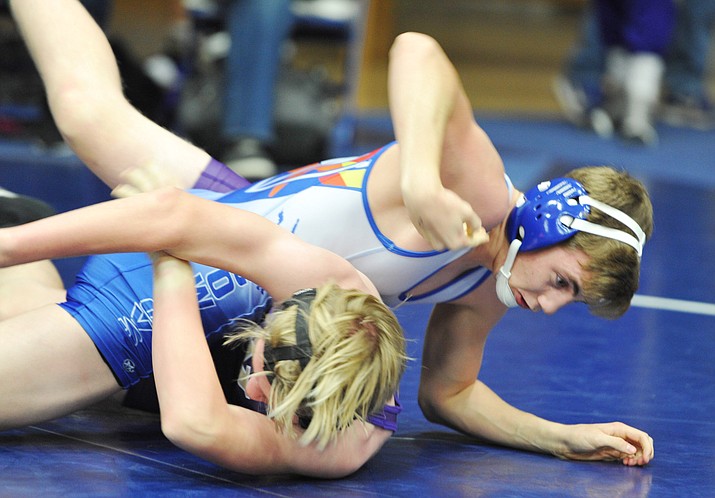 Originally Published: November 30, 2017 4:14 p.m.
Camp Verde High wrestling opened the season with handful of wins and a close call last week.
The Cowboys started the season at the Combs multiple meet on Nov. 21, beating the host Coyotes, Payson and Phoenix Arcadia.
Miguel Muro shocked at heavyweight.

"We did excellent," said Camp Verde head coach Tracy Tudor. "We defeated a tough Combs team, top to bottom they were stacked, loaded with strong kids and I was really surprised. Our team came through, we beat them, it was a fairly close match but we took it in the end. You know our heavy weight was a huge surprise, he beat a state placer at Combs and he's never wrestled before."
After beating Combs, the Cowboys knocked off Payson and Arcadia.
"We tore Payson up pretty bad," Tudor said. "We hurt a couple of their kids, I didn't feel too good about that but we hurt their shoulders. Our kids are wrestling really aggressive, which played into that and we beat a really inexperienced Arcadia team but we came away undefeated we did really well."
Next the Cowboys traveled to Prescott for the Yavapai County Duals at Embry-Riddle. Camp Verde finished second despite being short handed.
"To my surprise I thought we were going to have a tough one because we went wounded, with about three quarters of our team," Tudor said. "We were fighting some grade issues, some sickness. We beat Chino Valley and that surprised me because they're a pretty tough team top to bottom. So we got kinda lucky there, beat them, wrestled really well."
Next the Cowboys knocked off Wickenburg and then Mayer. The event featured seven teams.
Tudor said Wickenburg is a "real tough team," but they also were limited.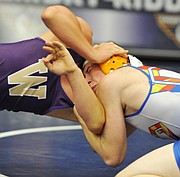 "They were lacking some guys too for the same problems but we beat them," Tudor said.
The Badgers beat the Cowboys 51-29 in the championship.
"We barely lost to them head to head because I had some scratches, didn't have people to put in the weight classes, they ended up beating us by about 20 points," Tudor said. "So head to head if we had had all my guys we would have done much better."
Tudor said the Division III Badgers will do well this year.
"Big school, tough school and they're very well coached by Max Payne and it was just a fun dual," Tudor said. "I think they're going to beat most of the teams they come up against. So we did well against them."
This weekend the Cowboys host the Verde Duals. The wrestling starts at 11 a.m. Friday and goes until 10 p.m. Then on Saturday it picks up at 9:30 a.m. and goes until 8 p.m.
There is 16 teams in the tournament: North Canyon, Ironwood Ridge, Coconino, Mingus Union, Window Rock, Benson, Tuba City, Maricopa, Pinnacle, Verrado, Antelope Union, Camp Verde, River Valley, Chandler Prep, Casteel and Bayfield.
" We got a really tough team coming in from Bayfield, Colorado," Tudor said. "We've seen them before, they come down in the summer for Weekend Wars and so got a idea of who he's bringing."
Coconino is making an appearance in the Verde Duals for the first time in a while.
"Verrado in Phoenix, they're always tough, loaded top to bottom, well coached," Tudor said. "We've also got Ironwood Ridge, which I'm expecting, probably, is going to be one of the toughest teams in the tournament. Big school, we're going to have a hard time with them probably man but we're taking a good squad in as well and anything can happen."
More like this story