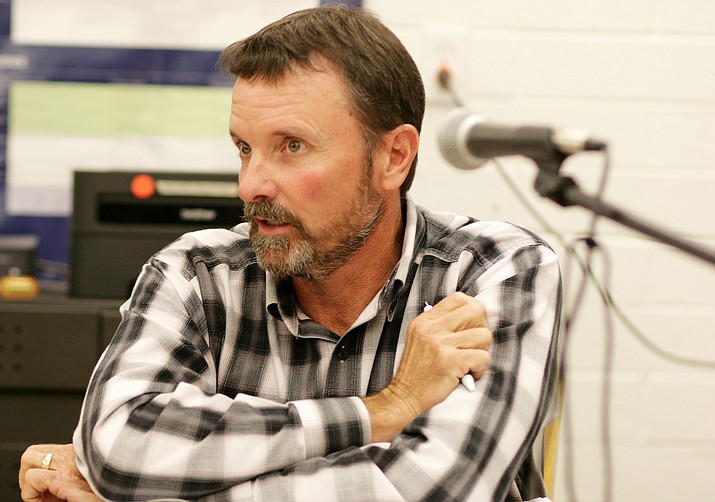 Originally Published: November 30, 2017 1:24 p.m.
COTTONWOOD – They say it's not about money. But it is. It's always about money.
Come budget time, most Arizona schools would be happy to break even.
Charged with finding facts and delivering them to the Cottonwood-Oak Creek and Mingus Union school boards, the Advisory Committee for Consolidation spent much of Tuesday's meeting debating cost benefit analysis vs. student benefit analysis.
To committee member Micah Swenson, just considering a merger between the two districts means that it's about "grow[ing students] academically and as people."
"Are we creating opportunities for long-term success that go beyond their educational years in the Verde Valley?" asks Swenson, an eighth-grade teacher at Cottonwood Middle School. "What sort of doors are we opening or potentially closing for our students with the decisions we face? Are we helping our students become successful adults who will make positive impacts on their communities?
"As a teacher, these things weigh most heavily on my mind as we discuss the topics related to consolidation," Swenson says. "I know fiscal responsibility is essential and I will continually consider and look at this part closely. But if it's right for our students, that's what I deem most paramount."
Moving in the right direction
Though the committee spent much of its two-hour meeting discussing budget analysis, committee member Steve Gesell says that the group is "moving in the right direction."
"This discussion will hopefully bear fruit in helping everyone in the community gain a better understanding as we move forward, regardless of whatever path that takes."
Seeking a better understanding – and utilizing someone with a background in finance – the committee again discussed former Mingus Union interim superintendent Dr. Jack Keegan as a possible financial analysis consultant.
Sitting in for JoAnne Cook at Tuesday's meeting, Cottonwood-Oak Creek's Janice Rollins says that "it cannot hurt to have Dr. Keegan on board."
"The more info that the committee has, the more informed they will be," Rollins says.
And Mingus Union's Gesell agrees.
"As we've all agreed, consolidation is a complex issue without a template," Gesell says. "Because we are lacking such a template, it would seem logical to tap into Dr. Keegan's expertise to shed a brighter light on at least the most nebulous facets, with the objective of reducing what is an inevitable margin of error."
Committee Chair Dan Mabery told the committee Tuesday that Dr. Keegan would charge $100 an hour, and that with family matters taking up a fair amount of his time, would only be willing to offer his services "if the board is 100-percent [in support]."
Though no decision was made on Dr. Keegan, Gesell opined that there "seemed to be consensus that the group found value in hiring Dr. Keegan and a desire to have a follow-up discussion to gain greater clarity on the focus area or areas he recommends so we can as two separate boards consider appropriating funds with an associated cap."
-- Follow Bill Helm on Twitter @BillHelm42