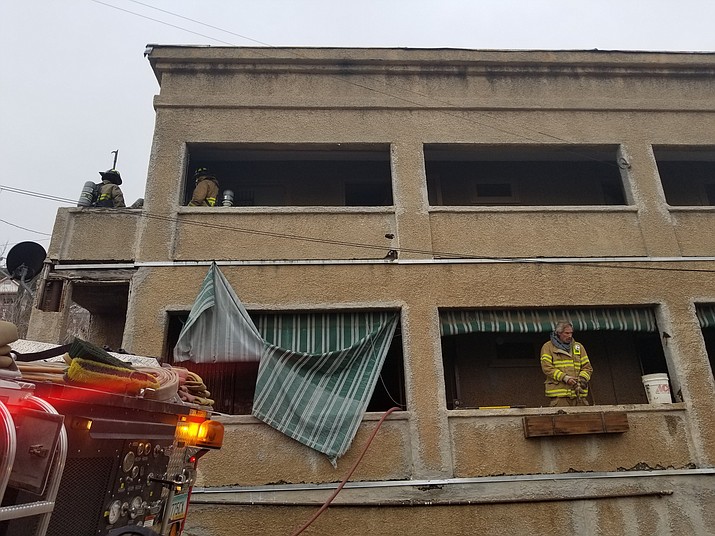 Originally Published: November 30, 2017 4:39 p.m.
JEROME – The Jerome Fire Department believes that an unattended candle on a bookshelf may have caused Wednesday's structure fire at the 600 block of Verde Street in Jerome around 3 p.m.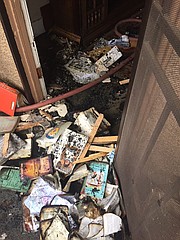 Jerome Fire Chief Rusty Blair received a call from public works personnel advising that there was smoke coming from a swamp cooler in the back of a structure after a neighbor had smelled smoke.
Arriving fire crews saw smoking coming from the side of a large three-story multi-family structure that had two apartments on the upper two floors and storage at the bottom, said Assistant Chief Ron Chilston in a news release.
The Jerome town crew worked on a sewer leak and made entry to the apartment that was involved in the fire. They were able to knock down the fire with a garden hose, according to the release.
The structure was unoccupied at the time of the event.
Arriving Jerome fire crews extended lines and extinguished the fire, and were assisted by Verde Valley Fire and Cottonwood Fire crews and the Jerome Police Department.
The fire was isolated to a bookshelf in the living room next to the front door.
It is believed that there had been a candle burning on the bookshelf that was left unattended. Two more unattended candles were found burning in the apartment.
"The building did not have any smoke alarms which would have made it easier to detect the fire earlier. This could have been a catastrophic fire for Jerome. The fire occurred in an area that have many structures that are one up against the other with the potential of us losing 4 homes," said Chilston.
The occupants of the home were displaced and were provided with lodging courtesy of the Connor Hotel in Jerome.
The Jerome Fire Department wishes to remind everybody that candles should only be used under careful adult supervision and never left unattended.
"It was a great effort by all involved and our thanks to all who helped," said the Jerome Fire Department.
More like this story