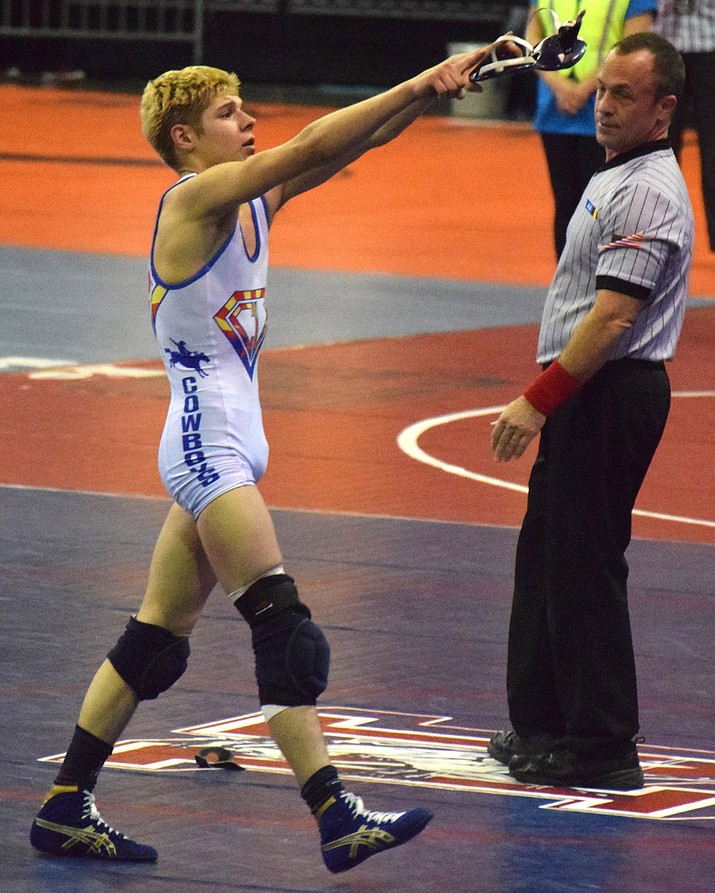 Originally Published: November 30, 2017 3:45 p.m.
Camp Verde High senior Skyler Pike has changed weight classes, but he continues to dominate.
Last year Pike won the 113 pound state championship, this year he is undefeated after moving up to 120 pounds.
"Looking good, always does, he always makes the weight, has a good showing," said Camp Verde head coach Tracy Tudor.
Last season Pike went 43-1, so this season he wants to go undefeated.
"It's no surprise with Skyler, he always answers the competition," Tudor said. "If it's good competitors, he does what it takes to win and does it clean. He wrestles technically. He's always in shape, always does what it takes to make the weight. He's an all around kid man, he's just a good kid. Hard worker in school, hard worker off the mat, hard worker on the mat."
Tudor said returning state champions help out the team a lot.
"It helps the team a lot because these young guys look up at these guys and they're like 'wow, all the things he's doing' and a lot of them will emulate what these guys do, so wonderful," Tudor said.
VVN: How did the season start off for you guys do you think?
Pike: I think we started off pretty strong. We tore it up in the first dual, we pulled off it was either 34 or 35 to 39 we won against Chino. So we were pretty happy about that. Then next we wrestled Wickenburg and we won that. So we did pretty good, we beat some tough kids.
VVN: How'd it go for you personally?
Pike: Personally I did good, I only wrestled twice but I pinned them both in the first period.
VVN: How exciting is it to be hosting the Verde Duals this weekend?
Pike: I'm excited, it's my senior year. We have some tough teams coming in, it should be a tough tournament this year.
VVN: What's the home crowd like?
Pike: It's a lot of pressure because you have your whole home town watching you, but it's pretty cool having your community supporting you.
VVN: What was it like after you won state last year? What was the offseason like? How did everyone treat you around town?
Pike: Just a lot of congratulations.
VVN: You talked about your goals for this upcoming year, how hard is it to go undefeated?
Pike: It's tough. I mean I should have a good season but I'm going to have to work hard for it.
VVN: What are the biggest obstacles to that?
Pike: Joe City is always tough, that's a pretty tough tournament. Verde Duals is gonna be tough and then Window Rock is going to be tough this year.
VVN: How long have you been wrestling?
Pike: This is my 10th year.
VVN: How'd you get into it?
Pike: They used to do clinics for the elementary kids, I started off there and then in second grade I started wrestling year round.
VVN: What's your favorite part about wrestling?
Pike: Umm, I don't know. Winning probably. I like spending time with my team too.
VVN: Do you have a favorite move?
Pike: No, no not really.
VVN: What are the biggest things you've learned in your high school career?
Pike: You gotta work hard at anything you do and the harder you work, the more you're gonna get out of it, the more accomplishments you'll receive.
VVN: How's school going?
Pike: Good, it's been going good, I have mostly A's and B's right now, I think. Yeah, I have all A's and B's right now.
VVN: Do you know what you want to do after high school?
Pike: Not really.
More like this story