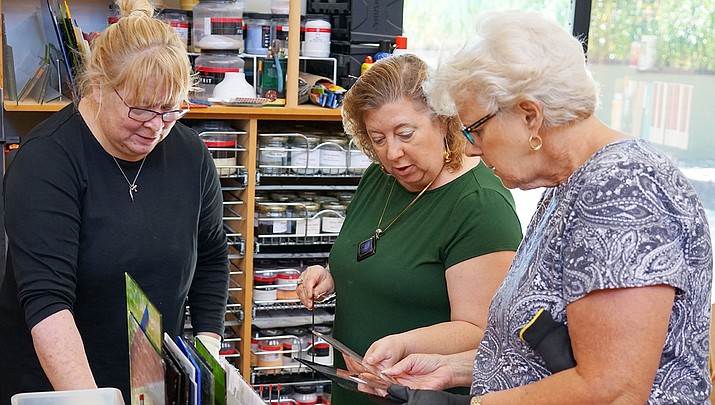 Originally Published: October 2, 2017 1:19 p.m.
Original artwork is an alchemical blending of an artist's inner world with an outer process.   An artist connects to an inner vision, to something larger than themselves - some unspoken vastness and then embodies this connection with the creation of a piece of art.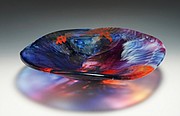 One of the many reasons we respond so profoundly as we gaze upon the work of any artist is that we too are responding to something larger than ourselves.  Throughout the month of October Creative Gateways in West Sedona explores this profound relationship of an artist's inner world with the outer world in their new exhibition As Above So Below - As Within So Without.  Join them and meet the artists of Creative Gateways during the opening reception for this special show on Friday, October 6, from 5-8 pm during 1st Friday in the Galleries.
Fused glass, or kiln-formed glass, is a process where various types and colors of glass are combined and heated in a kiln to create a new solid piece of glass.  The glass is then cold-worked to create beautiful edges and re-fired in the kiln to shape the glass into its final form.  Sometimes the glass only needs to be fired once, other times it requires multiple firings, all dependent upon the process required for the piece being created.  
Pilisa Rainbow Lady works to embody the essence of her inner visions through the medium of fused glass. Each piece has personal meaning to her, invoking a memory, feeling or place. Her collection is a study in contrasts between formal balance versus an organic fluidity, strength and fragility. Yet each piece is very refined and a clear reflection of who she is and her dedication to pushing the limits of the glass fusing process.
"I have a passion for creating, it is necessary to my well-being to be creative," Pilisa Rainbow Lady states,  "It's how I communicate with others.  I have worked in many mediums but since I discovered fused glass it has been my passion."
In addition to the pieces available in the gallery, she also does commissioned pieces that are uniquely created for the individual or business.  She has worked with numerous private collectors and recently completed a stunning series of wall sconces for the new Cafe Paleo Brio restaurant that will be opening in Flagstaff.
Marika Israelson sees herself as drawing out the beauty that is and making it as visible to the world as it is to the artist.  She says, "When you trust the direction that the medium is taking you as much as you trust your own eyes and hands, you can't help but make great art."  
An emerging artist, she relishes in the experimental nature of glass; to her it feels like a dance between her initial inspiration and the innate and sometimes unpredictable nature of the materials making her even more aware that the resulting piece takes on a unique life of its own.    Both of her parents are artists; they had a paintbrush in her hand before she even learned how to walk. 
Having been immersed in the visual language of value and contrast during her formative years, her work vibrates with an inner vitality playing with light, texture, and color. 
 As Above So Below - As Within So Without  will run throughout the month of October.
Creative Gateways is located at 45 Birch Blvd. in Sedona.  For more information about Creative Gateways please visit www.creativegateways.com or call 928-862-4440