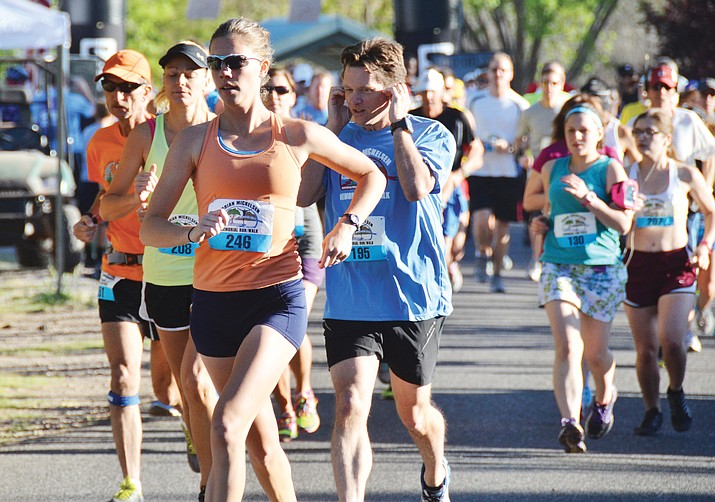 Originally Published: October 5, 2017 1:36 p.m.
COTTONWOOD -- Local runners already know this. Now the word is out. Cottonwood's annual Brian Mickelsen Memorial is one of the most popular half marathon events in Arizona.
The online running publication runnersgoal.com recently rated the most popular half-marathon (13.1 miles) events in the state based on runner feedback and Cottonwood's annual April race made the short list.
The Brian Mickelsen Memorial Run/Walk started out in 1992 as a Verde/Mingus Blowout 10K/2 mile event. The race was renamed and expanded in honor of Brian Mickelsen, Cottonwood's beloved former city manager who tragically died on a training run in 2007.
The 2018 event is scheduled Saturday, April 21. You can enter at active.com.
The runnersgoal.com report states the BMM half marathon "course takes you through the historic Old Town and meanders along the gentle hills up Sycamore Canyon Road where you enjoy views of the Verde River, and after 5 miles you'll turn around and leave the marathon runners behind. The course then takes you past Pecks Lake towards the Tuzigoot National Monument, then onwards past the Dead Horse Ranch State Park towards the finish line at Riverfront Park. The course is relatively flat with just a 138-foot peak at the 2.5 mile mark."
Runner reviews state:
"Really enjoyed the marathon and the scenic view was beautiful."
Darrell G., Marathonguide.com Review
"Loved the scenic course, limited crowds and easy parking–close to course. Friendly folks at frequent water stops. Have been telling lots of friends about this fun race who hadn't heard of it." - Robin, Halfmarathons.net Review.
Other Arizona races included on the list include the Sedona Half Marathon, Whiskey Row Half Marathon in Prescott, Rock 'n' Roll Half Marathon in Phoenix, Fiesta Bowl half marathon in Scottsdale, Phoenix Half Marathon in Mesa, Flagstaff Half Marathon, Yuma Territorial Half Marathon in Somerton and the Haunted Half Marathon in Phoenix.
More like this story