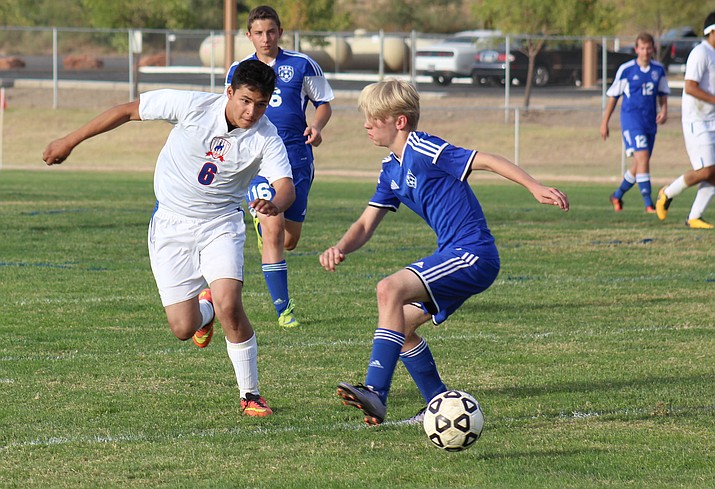 Originally Published: October 5, 2017 8:54 p.m.
Camp Verde High boys soccer emerged from the Old Pueblo Soccer Classic in Tucson with three draws and a win and confidence.
CV head coach David Miller said the tournament went really well for the No. 6 Cowboys (9-2-3, 1-0 Central).
Camp Verde extended their unbeaten streak to nine games.
"We started off with Blue Ridge, they were ranked No. 1 at the time and we played them to a 1-1 draw," Miller said. "It was an opportunity for us to really see what the next level is. We played them straight up, we out shot them, I thought we out played them, it could have easily gone our way."
Junior Joseph Jones said he thought the first day of the tournament, last Friday, started off well.
Blue Ridge is now No. 2.
"It was a pretty tense game," Jones said. "We were shooting, they were shooting and at the end we almost had a goal but the ref called it, so I think we were kinda ripped off, but it was a really good game."
In the second game on Friday, the Cowboys came back to draw No. 4 Snowflake 2-2, who was ranked third at the time.
"They're No. 3, big, fast and lots of pressure," Miller said. "We got down 2-0 and battled back to tie it up. It was more of an even game for us than the other."
The next day the Cowboys beat No. 21 Holbrook 7-2 and tied No. 9 St. Johns 1-1.
Jones said they didn't do as well on Saturday because they stayed up too late in the hotel and should have not allowed those goals to Holbrook.
"It wasn't much of a contest, they're pretty young and inexperienced," Miller said about Holbrook. "We gave up a couple of points on penalty kicks and it's just one of those things that happens."
By the time the Cowboys played St. Johns, they were hurting. It was their fourth game of the tournament and fifth game of the week.
Ailments like blister led the Cowboys to play more reserves and they gave up a late equalizer.
"We had a bunch of boys that were hurt, that was our fourth game within 24 hours and some of the guys had some ticky tack little things," Miller said. "We sat some of our experienced players and we had 1-0 lead, I thought that was going to hold for us and we gave up a late goal."
The tournament was their last of the regular season and not only are the final six matches power point games, they are also region games.
Up next for Camp Verde is a home game against Grand Canyon on Saturday at 1 p.m.
Miller said the Old Pueblo Tournament was a good experience.
"Three ties, it could have easily been four wins but it was a good tournament, got lots of experience out there with the other guys," Miller said. "We got a chance to try out some other stuff, it was good."
More like this story