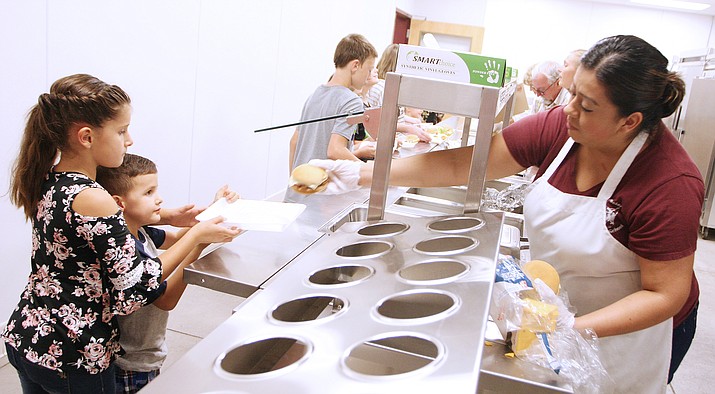 Originally Published: October 10, 2017 1:46 p.m.
Principal - Katrina Sacco reports:
Parent teacher conferences were a success, many families joined us to discuss the progress of our students.
The active engagement of parents and teachers in a collaborative effort to promote student success is essential for student growth.
Our first benchmark testing with our new assessment system is complete and we now have data on all students in the school.
I look forward to developing a stronger understanding of our new reporting systems through upcoming training opportunities; data drives our decisions and supports our understanding of student progress and instructional needs.
The middle school team has been implementing strategies to reach every student through the use of small group instruction; with creative grouping and the support of technology these teachers are doing a wonderful job of meeting the need of every student.
Micca Martinez has once again organized a variety of activities for wellness week. She works hard to make these events meaningful, informative, and enjoyable for our students.
The cafeteria staff has been supportive and flexible as we work to find balance in our breakfast procedures. They began serving breakfast in the cafeteria beginning Oct. 2 once again. I am looking forward to wonderful menu that was created with this change in mind. 
Transportation and Maintenance Diana Iverson reports:
All of our buses are back in service. Thanks Jimmy.
We are wishing Matthew good luck as his second child arrives October 3.
The Science pond (top and bottom) is back up and running. Thanks David, Enrique Garcia and Randy Procknow.
All HVAC systems are up and running.
The grounds are looking good. Thanks David and Gabe.
4th grade from Mrs. Guth's classroom:
Students have been learning about the water cycle, making clouds and are going on a field trip to the water festival.
We went to the Highland Center last week and the students had a great time learning about life cycles, food chains and Arizona plants.
College and Career Readiness Margee Cowan Reports:
As the first quarter comes to an end, I am excited about the Fieldtrips that have been taken and are planned for this school year. 
Eighth grade got to tour CTEC (Career and Technical Education) campus and Yavapai College campus in Prescott. They were amazed at the possibilities offered at the CTEC campus, like traffic controlling, helicopter maintenance, gun smithing to name a few. With this knowledge they will be better prepared to select classes for high school. 
They also attended the Diamondback's Career Day and enjoyed hearing about the various careers presented with the military being the most popular.  Many students used the tickets that they were given to attend a Major league game with their families. This was something that many had never done. 
We have upcoming Ballet Presentations, a musical, literary plays as well as a NAU trip to name a few. So lots of educational and enrichment opportunities for our Bobcats!
The 21st Century Learning Program Allie Wheeler Reports:
21st century Friday programming has had a successful 9 weeks. We are serving an average of 65 students on Fridays.
We offer art, gardening, leadership, citizenship, fitness and health, as well as a computer time to help support academics. The students also have an opportunity to join K-kids and builders club, as well as, a library programming every other week. We are excited to start tutoring when we return from fall break.
We are expecting to service about 50-60 students during our tutoring sessions.
Our classroom teachers will be focusing on Math and Reading, using our benchmark data as a focus. 
The Superintendent and Business Services, Karin Ward reports:
The office staff run the front office with enthusiasm, a smile and a can do attitude. We have many projects bedsides the school side of transportation changes, student registration, and attendance and health office duties.
Sharon, Ori, and Lyndel are working on preparing for our annual audit, setting up benefits meetings, organizing Special Education meetings, keeping the district facilities calendar current and the Governing Board prepared for meetings. What an amazing group of ladies!