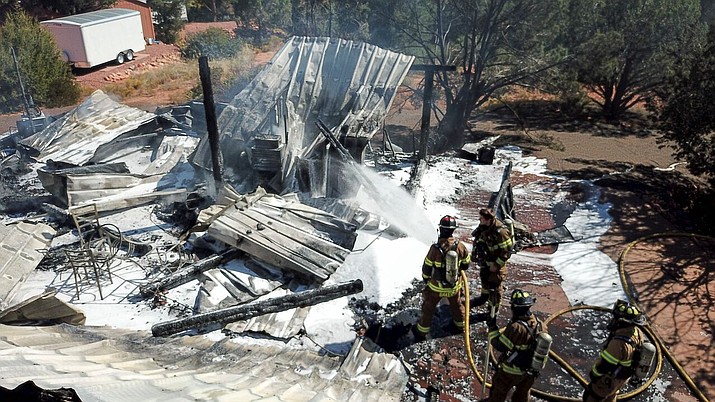 Originally Published: October 10, 2017 4:25 p.m.
VILLAGE OF OAK CREEK – Shortly after noon Monday, October 9, Sedona Fire District was called for a shop on fire at 175 Sunset Pass Road in the Village of Oak Creek.
"When firefighters arrived they found a 1000 square foot detached workshop completely engulfed in flames" said Fire Marshal Jon Davis. "Fire crews worked quickly to contain the fire and were successful in keeping it from spreading to nearby structures or trees."
Firefighters remained on scene for nearly four hours to make sure that the fire was completely extinguished.
"During the night our crews checked on the remains of the building to make sure that the fire remained out and did not rekindle" said Davis. "This is standard practice for us. We would hate to have a fire re-start in the middle of the night when it would be likely to go un-noticed for long periods of time."
The loss of the building and contents is estimated to be around $100,000. There were no injuries reported.
"The cause of the fire is under investigation but does not appear to be suspicious in nature" explained Davis.
More like this story