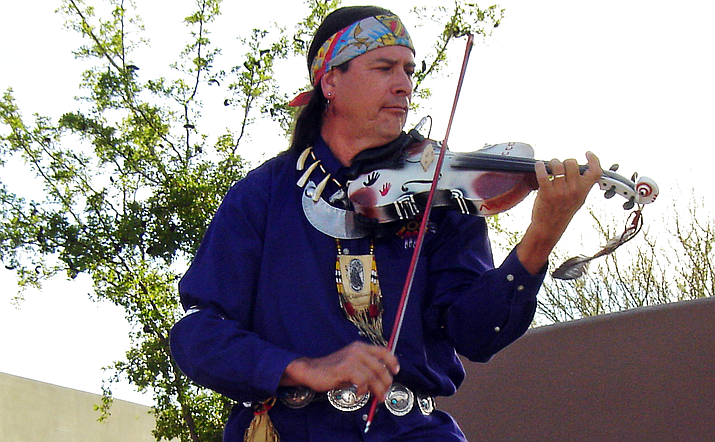 Originally Published: October 12, 2017 1:42 p.m.
Celebrate the opening of the 2017-2018 Music in the House performance series at the Sedona Posse Grounds Hub with Celtic Indian Arvel Bird, named one of Cowboy and Indian magazine's top four favorite Native American musicians along with Buffy Saint Marie and R. Carlos Nakai.
For the past 13 years, Arvel Bird has performed nearly 150 shows a year at a variety of venues from music festivals to concert halls where the audience gets a glimpse into his Native American heart and Scottish soul.
Arvel Bird's violin and Native American flute performances encompass an extraordinary love of diversity -- from his contemporary international award winning Native American and Celtic rock orchestrations to traditional Celtic tunes and bluegrass standards, his performances have been heralded "Braveheart Meets Last of the Mohicans ... at Woodstock." His touring has taken him to Scotland, England, Ireland, Australia, New Zealand, Canada and in prestigious North American locations.
During his time in Nashville, Arvel built his own master recording studio, launched his own independent record label, Singing Wolf Records, and toured with Glen Campbell, Loretta Lynn, Tom T. Hall, Ray Price, Louise Mandrell, and others.
Five of Arvel's releases have earned him eight music awards including Best Instrumental, Best Traditional Instrumental, Best Contemporary Music, Best Producer / Engineer and Artist of the Year and has been honored with many other nominations by Indigenous music awards organizations in both Canada and the U.S. Now based in Cottonwood, Arvel recently co-founded the Center of Universal Light as Senior Minister, presenting "Spirituality Beyond Religion" Sunday messages with his wife, Kimberly Kelley, as they continue performing on a more selective basis.
The Sedona Hub is the rapidly growing new live performing arts venue offering performance, classes and rehearsal space to those whose passion it is to entertain, teach and hone their skills as live artists.
Where: The Sedona Hub (525B Posse Grounds Rd, next to the Skate Park)
When: Friday, Oct.13, 7pm (door open at 6:30pm)
Tickets: $10 at the door.
For more information: http://www.sedonahub.org, call The Sedona Hub at 928-282-1660 or email info@sedonahub.org.