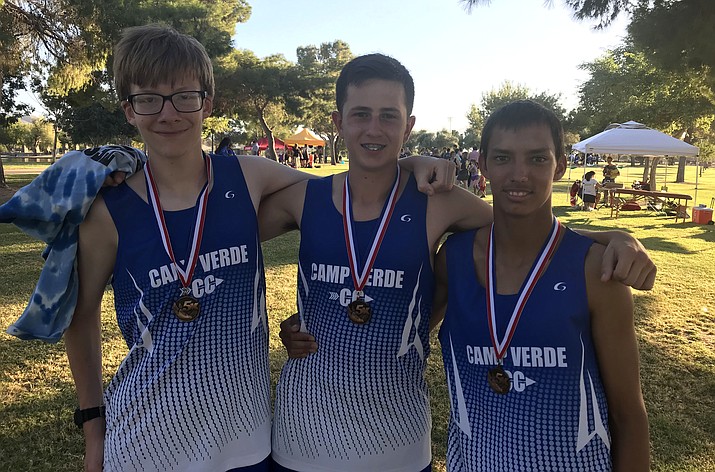 Originally Published: October 12, 2017 1:45 p.m.
Camp Verde High boys cross country raced to its best finish of the season on Wednesday.
The Cowboys sent three runners, just the boys, to the ALA Invitational at Cesar Chavez Park in Laveen and each had their best race of the season said Camp Verde head coach Mike O'Callaghan.
Junior Dominic Pittman finished ninth in 20:08, sophomore Sy Hanson was 20th in 21:24 and junior Logan Pratt took 24th in 21:46. All three were medalists.

O'Callaghan said with the season winding down that the coaches talked to the Cowboys about being more aggressive.
"The guys ran very well (Wednesday)," O'Callaghan said. "They all ran very well (Wednesday)."
O'Callaghan said Pratt's run was the most impressive; it was his best by over two minutes.
"Definitely the race of the day was Logan's," O'Callaghan said. "It's the first time this year I've really seen him run aggressively through the whole race."
O'Callaghan said the course, with long straight away stretches, a little up and down, some grass was similar to the one they will run at Sectionals.
Next Friday they will try out the Sectionals course a week before that meet when they go to the Holbrook Invitational. Both of those meets are at Hidden Cove Golf Course.
"They're moving in the right direction and we're still hopeful that we can get a couple of them to qualify for the state meet," O'Callaghan said.