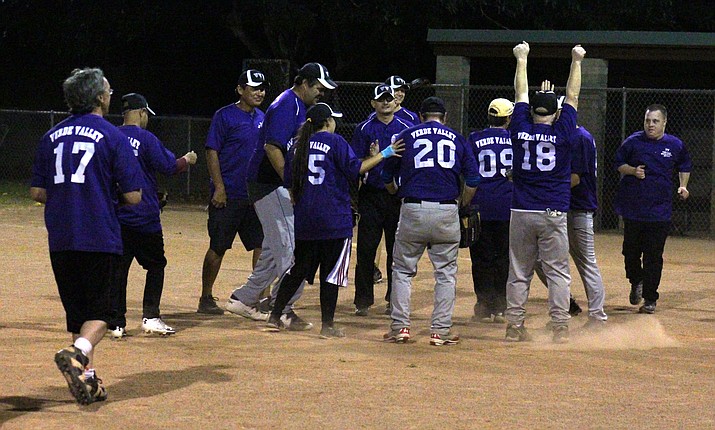 Originally Published: October 14, 2017 12:04 p.m.
One team won the game and the other lost, but there were smiles all around.
On Thursday night at Butler Park in Camp Verde, the Mingus Union varsity softball team played the Verde Valley Diamondbacks, the local Special Olympics team. The Diamondbacks held off the Marauders' last inning rally to win.
"It's fantastic, we do this every year and I'm very happy that Mingus was able to play our team I think our guys played competitively, we squeaked out a win," said Verde Valley head coach Heather Risk.
The game served as the Area Game, which qualified the Diamondback for the Special Olympics Arizona Fall Classic on Oct. 27 and 28 at Pioneer Park in Peoria.
"It's really cool, I think we should do this more often, it's a really fun time for everyone involved and it's a good way to just bring the communities together," said Mingus co-captain Lacey Sarvaro.
Mingus head coach John Brown pitched for the Marauders and endured some good natured ribbing from the high school players during the game as both sides smiled throughout the game.
"It was a good time, it was a close game, I think they beat us by five, so it was a good fun time," Brown said.
The stands were full and fans cheered for both sides.
Mingus co-captains Nikki Zielinski and Sarvaro helped to organize it.
"It's great, as you can tell by the fans that we had, it brings a lot of people together in the big community and it's fun," Risk said. "And thanks to Nikki on the Mingus team, she really prepared and got everybody together and helped us out."
Risk, who also coaches the local Special Olympics golf team, is the Head Golf Professional and the Director of Instruction for Oakcreek Country Club.
"Heather actually helped us with a softball fundraiser throughout the year, so I thought she gave so much to us that we should give back to her," Zielinski said.
Zielinski did her work despite playing for the Mingus Union volleyball team as well this fall.
"Nikki is a second year captain for us and she's trying to get the team together in the early preseason, do some things for the community, so Nikki put it together with Heather and everybody was all on board so we just decided to give them some help before they go off to their games," Brown said. "Nikki pretty much spearheaded it."
Zielinski said since Verde Valley residents live in small communities they should work together.
"Softball has really impacted my life and so I thought that to help others with the sport was a really big thing for me," Zielinski said.
The Fall Classic will also feature bocce and golf.
On Sept. 29 at the home of Allan and Judy Roughton of Camp Verde residents, dozens competed in the Bocce Regional Tournament's Mountain Area regionals of the Special Olympics.
Brown said he is really proud of his captains.
"They're awesome," Brown said. "As far as captains go, there's a lot of leadership there. There's a lot of just good human being there, so that's a pretty neat thing to have captains that just want to help out with the community and be a part of something bigger than ourselves. I'm real proud of them."
The Verde Valley Diamondbacks play different teams before the Fall Classic every year but it sounds like the Marauders would like to again.
After the game the Diamondbacks celebrated the win as the Marauders talked to them. Then both teams took a photo together in the infield.
"It was really fun, made some new friends," Sarvaro said.
More like this story