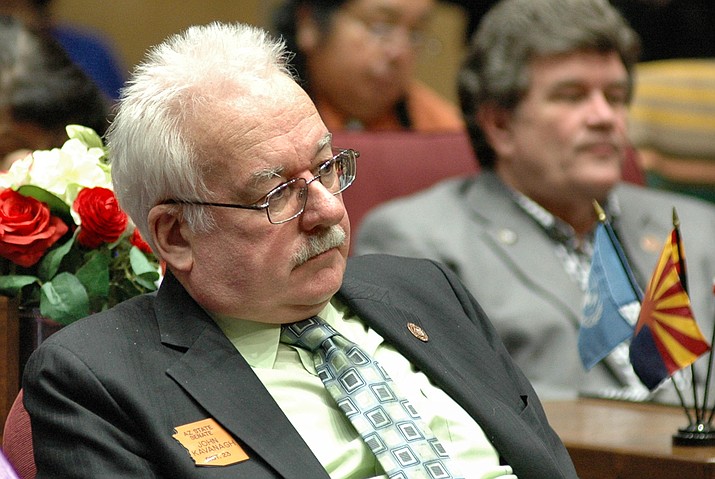 Photo by Howard Fischer, Capitol Media Services.

Originally Published: October 17, 2017 2:30 p.m.
PHOENIX -- Calling the city's policy of welcoming migrants more rhetoric than real, Attorney General Mark Brnovich ruled Monday that nothing the council told the police to do violates state laws on illegal immigration.
Brnovich said it is clear the council wanted to adopt "aspirational language'' designed to show that the mayor and city council welcome all those who live in the city, regardless of legal status.
But Bnrovich and O.H. Skinner, head of his government accountability and special litigation unit, concluded nothing in the policies telling police how to deal with people suspected of being here illegally conflicts with SB 1070.
That is the historic 2010 law designed to get local police more involved in enforcing federal immigration laws.
"Whatever gloss has been placed on it by local elected officials, the Operations Order by its terms does not conflict with state law or appear to put the city in conflict with the federal government,'' the new ruling states. "Indeed, the U.S. Department of Justice, led by Attorney General Jeff Sessions, has not included the city in its recent 'last chance' warning over 'sanctuary city' laws.''
Brnovich put a sharper point on that in an interview with Capitol Media Services.
"I think that the city in some ways tried to be a little cute with their policies,'' he said.
"They tried to massage the language so they could appear as if they were doing something they weren't,'' Brnovich continued. "But the reality is this policy is worded in a way that makes it entirely consistent with SB 1070.''
The new opinion has implications beyond just Phoenix.
Skinner noted that the vote earlier this year by Phoenix council directed the police department to revamp its policy on dealing with those who may not be in the country legally to align with those already in existence in Tucson, Mesa and with the Maricopa County Sheriff's Department.
That would appear to mean those policies also conform to state law.
Brnovich, however, said he has not reach such a legal conclusion, saying only the Phoenix policies were being scrutinized.
He also cautioned that his review was based on whether the policies as written run afoul of key provisions of SB 1070, not the actions of individual officers.
One section of SB 1070 requires that police make an attempt when practicable to ascertain the legal status of those they encounter if there is reasonable suspicion they are in the country illegally.
Another deals with when police haven to contact Immigration and Customs officials.
State Sen. John Kavanagh, R-Fountain Hills, triggered Brnovich's inquiry, using a 2016 law that allows legislators to force the attorney general to investigate suspected instances where local ordinances conflict with state statutes.
He argued the policies conflict with SB 1070.
For example, Kavanagh charged that police and school resources officers are precluded from asking immigration questions or contacting ICE while on school grounds.
"This blanket ban makes schools sanctuary sites, where anyone -- child, adult, student, staff member or visitor -- in the country illegally is protected from otherwise lawful immigration inquiries mandated by law,'' the senator told Brnovich.
But Skinner, who signed the 7-page opinion, pointed out the Phoenix policies require officers to act "in a manner consistent with federal and state laws regulating immigration.''
"Where the circumstances set forth in (various sections) are triggered, officers are under an obligation to carry out their mandatory duties under state law, regardless of whether they are on school grounds, involved in traffic enforcement, or otherwise,'' he wrote.
Monday's ruling left Kavanagh frustrated and a bit confused.
The senator said he and lawyers working with him on the issue hope to meet with Brnovich and his staff in the next few days to better understand how they reached their conclusion.
But Kavanagh said he isn't buying the conclusion that Phoenix is really doing what it is supposed to do to combat illegal immigration.
"The best case scenario for Phoenix is they drafted a convolutedly worded ordinance that fulfills the technical requirements of 1070 but violates the spirit of 1070,'' he said.
Kavanagh said that might be fine if the law were being enforced only by attorneys.
But Kavanagh said when police officers look at the language they will read it in a way to restrict their ability to question and detain suspected undocumented people.
Brnovich conceded that it is possible that the actual practices of police officers are different than what the policy states.
But he said the 2016 law requiring his agency to review local laws goes only to what's on paper.
And with that as his only legal basis for review, Brnovich told Capitol Media Services he cannot find those policies at fault.
"There is nothing in there that conflicts with SB 1070,'' he said. "Furthermore, if you look at the language, it actually tracks and is consistent with 1070.''
Brnovich said anything outside those words -- including the rhetoric of council members -- is irrelevant.
"They were making an attempt to try to massage this issue a little bit and maybe act as if they were undermining 1070 or whatever,'' he explained.
"They can say whatever they want to say,'' Brnovich continued. "But the reality is the city council took a vote to not become a sanctuary city and the city has adopted policies which are entirely consistent with SB 1070.''
On Twitter: @azcapmedia