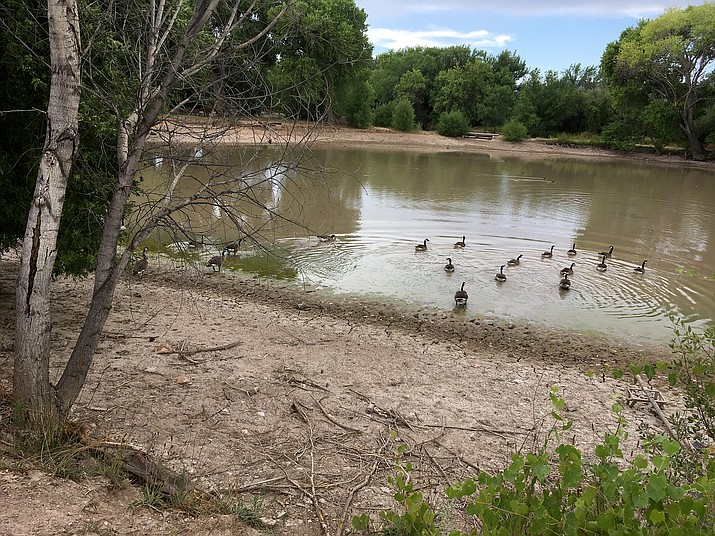 Photo by Bill Helm.

Originally Published: October 19, 2017 3:06 p.m.
CAMP VERDE – There's a ways to go before Verde Lakes Park can become a municipal park – if the project is even possible.
The Camp Verde Town Council spent the majority of its Wednesday regular meeting discussing beginning steps toward the maintenance and staffing of Verde Lakes Pond as a town-owned park.
Town Manager Russ Martin made it clear to the council and attendees that no decision was being made at the meeting – instead he requested the council's permission to look further into the legalities and water rights issues in making the park a municipal park.
Potential obstacles
The process may involve engaging another water rights attorney, as the Town's attorney has a history of representation of the Verde Lakes Pond.
There is also the need to clean up the area without removing the foliage that makes the park appealing.
"We would need to do cleanup to address potential liabilities … when we went out there you can't go all the way around the pond, because there's a tree that really crosses over – obviously a significant project in and of itself," Town Manager Russ Martin said. "There are other trees nearby with potential problems that in the near future that are going to need to be addressed."
Members of the council expressed concerns with the project.
Other concerns include staffing the park and maintenance costs, along with hearing what those who live near the park have to say.
"I'm not sure at this time it's something we should move forward on. There are a lot of things that need to be addressed and straightened out before we even touch it, I believe," said council member Buck Buchanan.
When Buchanan inquired of the cost, Martin indicated investigation may cost up to $1,000 at a maximum.
"As far as pursuing this right now, I would certainly like to be able to do that, I just think we've got our plate so full," said council member Jackie Baker. "I just don't see how we can pursue ownership of this at this point in time…it's not because I wouldn't love to do that right now, I just don't believe that, regarding the entire community, we are in a position to do that."

The future of the pond
Town Manager Russ Martin noted looking into the pond's fire-wise potential in addition to whether to acquire the land.
"In discussions with Terry, there's a lot of opportunities maybe to work with grants and doing some firewise stuff out there. But fundamentally, we're probably going to need to consider that anyway regardless of where we head with this particular issue," said Martin.
Martin also brought up that potential firefighting capabilities of the pond, if possible, should be looked into as a "high priority" even if the municipal park project does not move forward.
There was also talk of the park's potential to be a fishing and kayaking area. Several members of the community attended the meeting and voiced favorable interest in the town turning the park into a gathering place.
"We would respect our role in becoming part of the neighbor group that's out there," Martin said.
Martin cited there are grants that are available to help become more engaged with the Verde Lakes community and improved the pond.
"I'm all for it. This park will do something other parks don't – this park will give us ponds, kids can go out and fish," said Council Member Robin Whatley. "It is unique. I think it would be an asset for the entire community, not only Verde Lakes."
The counsel indicated to Martin that they would like him to move forward in investigating the potential opportunity of the project.
More like this story