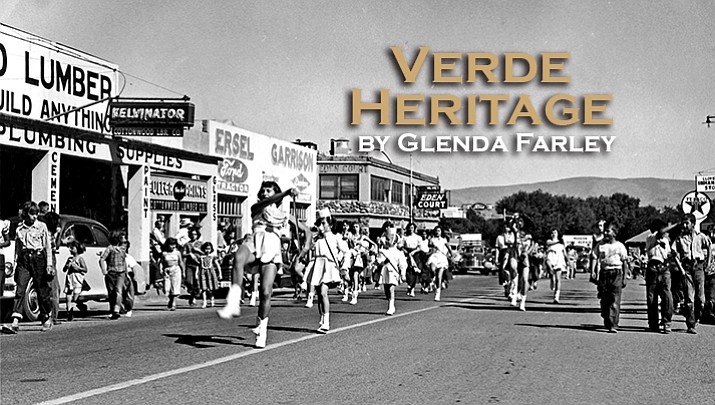 Originally Published: October 27, 2017 10:15 a.m.
William "Bill" W. Nichols and his family began their dairy business when they arrived in the Verde Valley during the spring of 1879. They originally rented a piece of ground from Jim Winningham located across and down the Verde River from Tuzigoot. Malaria was bad that year, so they moved to a more healthful area later named Haskell Springs, then they moved up into the Black Hills.
The Nichols family took their cattle where there was water and good grazing in the Black Hills where men were working on their mining claims during the warmer months of the year. Every evening a couple of cows were brought to each of the 3 mining camps and milked to provide the miners with milk for their evening meal and for their breakfast the next morning. Along with milk, miners could buy butter and cheese.
Arizona Territorial Governor John C. Fremont and his wife, Francis Fremont, with Professor Maynard, went with mine investor Hugo Richards to see the mining properties in the Black Hills during the last part of September, 1879. Governor Fremont described Ruffner's Camp: "This little valley was a gem among the hills, fresh and green with woods which entirely filled up its bottom lands; walnut, oak, ash, box-elder, and other trees. Fine springs break out here at the foot of the hill, making a cool and lively little creek, which seemed to fill the air with freshness and was pleasant to look at. Some tents were pitched here, this being the camp of men occupied in opening the copper mine" which was about a mile away and 150 feet lower. "Mr. Riggs, who has the contract for running the tunnel, gave us a good supper, with good tea, which we knew would be rendered complete, as we had heard the tinkle of cow-bells in passing. We had a sound sleep on the ground, and after a good breakfast in the early morning we turned back on our way to Prescott." (Report of the Governor of Arizona Territory to the Secretary of the Interior; Prescott; November 20, 1879.) John Charles Fremont was the Governor of Arizona Territory from October 6, 1878, until October 11, 1881.
The 1880 Census lists the family as: William Nichols and his wife, "Lewsanda" Nichols, and their children; William N. Nichols, Carrie V. Nichols [later, Mrs. Arthur Whitaker], Eva Nichols, Alice E. Nichols [later, Mrs. Fred Mickle], Jesse Nichols, John P. Nichols, and Arthur Nichols.
During the summer, the Nichols family camped in tents in Walnut Gulch, Mescal Gulch, and other places. Eventually, the family built a house in Deception Gulch and a cabin in Mescal Gulch.
The Nichols family used burros to pack water into the Copper Camp, named Jerome in 1883, before water was piped into the town. Water was carried in 5-gallon cans. They also sold milk, butter, cheese, eggs, and beef to the residents of the mining camps.
Isaac Jones had claimed land along the old road from Oak Creek to Jerome at "Scott's Crossing" between the "Lime Kiln Crossing" and the "Van Deren Crossing" (later called "Thompson's Crossing," then "Bridgeport"). William "Bill" Nichols bought the "improvements" and "squatter's rights" from Isaac Jones. The family built a house out of soft stone, and that area became known as "Rock House Flats." After living on the property for 5 years or more, William W. Nichols received a land patent for 160 acres in Section 35 on August 19, 1890. The dairy cattle were brought home to the Verde River during the cooler months of the year. Land was leveled and horse races there were popular events at their ranch.
Alice E. Nichols married Fred Mickle, who became a business partner with her father. "F. W. Mickle and W. W. Nichols have disposed of their interest in the dairy business to J. F. Dwyer. Mr. Dwyer is an old hand at the business." (Jerome Mining News; June 25, 1898.)
Mr. Nichols started a stage route from Jerome south to the Copper Chief mine. Fred Mickle was soon delivering milk to Jerome residents and advertising in the newspaper.
1899: "James Strahan has sold his ranch in the Verde Valley to Mr. Dwyer, and will leave soon for Puget Sound. (Arizona Weekly Journal-Miner; November 1, 1899.)
"J. F. Dwyer, the popular and wide-awake proprietor of the JEROME DAIRY, has found it necessary to again increase the number of his milk cows." (Jerome Mining News; July 13, 1901.)
J. F. Dwyer and Charles D. Willard (founder and owner of the ALAMO DAIRY), became business partners. "J. F. Dwyer has sold his interest in the Dwyer-Willard Dairy to C. D. Willard, and after today the business will be in charge of Mr. Willard." (Jerome Mining News; September 15, 1904.)
Charles D. Willard, after a few years, leased JEROME DAIRY to George W. Avery, who assigned it to Fred Mickle. "Fred Mickle, of Cottonwood, leased to Barney Savonia, Phil Poletti, and Joe Bratezani, all that part of the Old Dwyer Ranch, now under fence and owned by Charles D. Willard, of Cottonwood. This lease began January 16, 1913. The lease was for $50 per month. (Yavapai County, Book 4 of Leases, pages 554-556.) "Barry Savonia, Phil Polletti, and Joe Bratezani leased, for a term of 3 years, the JEROME DAIRY." (Jerome News; January 18, 1913.)
Many people were associated with the Jerome Dairy before it closed during 1957.
Visit the VERDE DISTRICT DAIRY and learn about other dairies during the Historic Home and Building Tour on Saturday, November 4, 2017.
More like this story