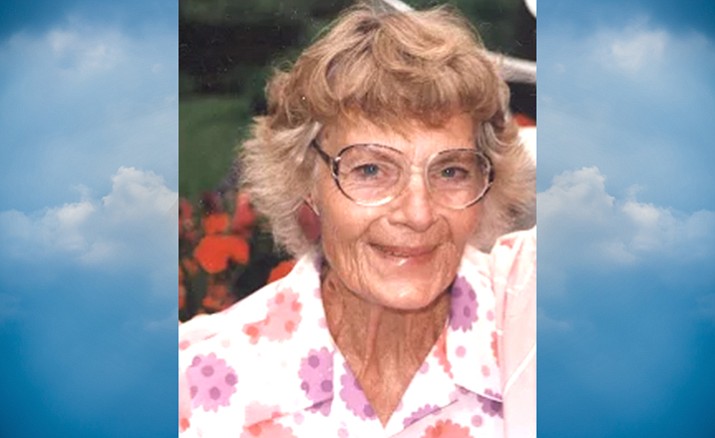 Originally Published: October 31, 2017 3:18 p.m.
Ida Larson was born July 8th, 1927, one of eight children, to John and Carrie Almond, in Savage, Montana.
She passed away October 15, 2017 in Cottonwood, Arizona, after complications from a fall.
She was 90 years old. Ida married John Larson in 1952, a blinded WWII Army Veteran. They lived in Phoenix, Arizona and had 3 children; Walton, Evelyn, and Roger. Ida drove the family everywhere, including to visit her brothers and sisters as well as driving to all the U.S. states.
She was a loving, devoted mother and wife.
In 1970 they moved to Camp Verde, Arizona, where Ida was involved with the Homemakers Club, gardening and later, going to ball games with their grandsons, Wayne and James. Her husband John, died in 2006.
Ida loved helping people.
She will be missed by all her family and her many friends. Ida was preceded in death by her parents, John and Carrie Almond; brothers, John and Roy Almond; sisters, Mary Pust, Edith Damm and Harriett Damm. Ida is survived by her children; sons, Walton Larson (Kim McEachern), Roger (Diane) Larson and daughter Evelyn Haase; two sisters, Annie Klempel and Florence (Don) Dvorak; Grandchildren Trish McEachern, Wayne (Melanie) Larson, James (Rachel) Warden, Alena (Tommy) Nelson, Nikia Larson, Tracy Haase, Leslie Haase, Beverly (Steve) Garver, Krista (Josh) Ontiveros; great-grandchildren, Emma, Abby, and Ben Larson, Tristan Nelson, Eva Ontiveros, Hailey Warden and many nieces and nephews.

A Memorial Service will be held at the Chapel of Bueler Funeral Home in Camp Verde, Arizona, Sunday, November 5th at 3PM. In lieu of flowers, please donate to the Old Town Mission in Cottonwood.
Condolences may be conveyed at www.buelerfuneralhome.com.
Information provided by survivors.
More like this story