Originally Published: September 2, 2017 12:19 p.m.
Local historian Tim Coons explains with a smile that he does not want us to tell you too much about his talk about the TAPCO Steam Plant in Clarkdale because he wants to save the exciting parts for his Centennial talk about the historic plant on Saturday, Sept. 16.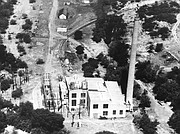 His thrill was apparent last week as he discussed the century-celebration of the steam plant planned for the Men's Lounge at the Clarkdale Memorial Clubhouse in Clarkdale at 2 p.m.
What does needs to be explained is that the TAPCO Steam plant – which you can still see off Sycamore Canyon Road across from the Verde River– was an engineering marvel for its time.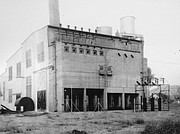 "The TAPCO Steam Plant, when it was built in '17, was cutting-edge, state-of-the-art technology," he said.
And Coons has photos, documents, artifacts and years of research to bring the steam plant's historical significance to the Verde Valley to life in front of an audience.
The steam plant, operated from 1917 to 1958, was owned by the Arizona Power Co. and was built right on the Verde River "out of convenience," he said. "United Verde Copper Company was their largest customer."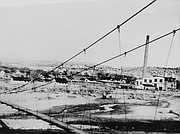 A 4,600-foot concrete gravity flume delivered water from the Verde River to cool the condenser, which handled the steam from the turbine.
Four boilers burned California crude oil delivered by rail to two storage tanks.
A 450-foot suspension bridge for foot traffic was built across the Verde River from Sycamore Canyon Road to the TAPCO plant around 1929. The bridge was to help deal with occasional floods.
According to an article in the Verde Independent in February 1982, the bridge was torn down in January 1982.
The plant powered Jerome and Prescott and also sent power to Phoenix, and Coons pointed out that that would be all be explained in detail in his centennial talk.
That will be Saturday, Sept. 16, at the Clarkdale Memorial Clubhouse in Clarkdale at 2 p.m.
Coons picked the month of September to celebrate because that is the month the plant started generation of electricity in 1917, and the last time the plant ran was in September of 1958, he added.
"Open to the public. It's free of charge," Coons explained. "It's an engineering marvel. And I want to celebrate that. One-hundred anniversary – you don't get those often."
Philip Wright contributed to this story.