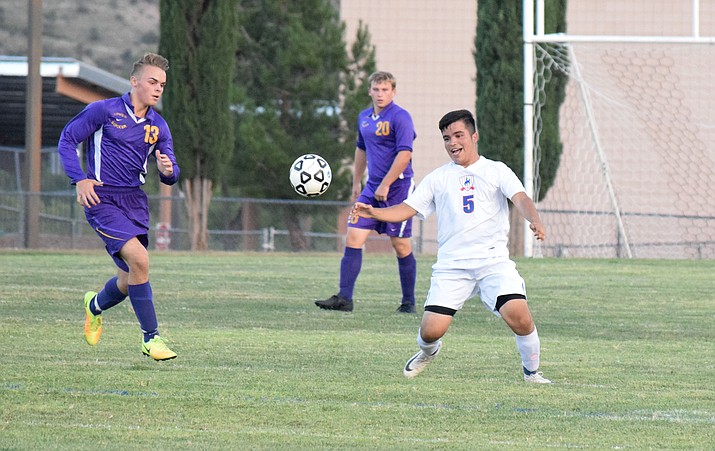 Originally Published: September 7, 2017 2:17 p.m.
One big reason why Camp Verde High is off to a 4-1 start is sophomore Beto Ruiz, a defender who loves offense.
The Cowboys opened the season with an 8-1 win over Payson then at the Chino Cup, they beat Grand Canyon 7-0, The Gregory School 8-0 and Page 6-0. They lost 2-1 to the hosts and four-time defending state champion, Chino Valley.
Ruiz plays outside defense and Camp Verde head coach David Miller said he plays it strong.
"He's just a committed young man," Miller said. "He never misses practices, he's there all the time. He works on his game all the time."
Last year Ruiz played for the JV came off the bench for the varsity. Miller said he isn't surprised by his success this year though.
At the Chino Cup, played all 80 minutes in two games and 76 and 74 in the other two. Against The Gregory School, Ruiz scored the Cowboys' first penalty kick of the season.
Miller said Ruiz emerged victorious from their PK evaluation and so he took the first penalty kick.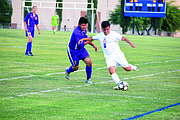 VVN: How's the season been going for you do you think?
Ruiz: It's been a rough season, too much running (laughs). Even though we need it.
VVN: Is it more than last year and more than you have done in club and stuff?
Ruiz: It's more than last year.
VVN: Is it tough to be playing defense when you're winning like 7-0, 9-0, to stay focused when they're on offense so much?
Ruiz: No, not really, winning gives me more motivation. It gets me more hyped to play defense.
VVN: How long have you been playing soccer?
Ruiz: Six years.
VVN: How did you get into it? A family member?
Ruiz: Yeah, friends, started playing at home and joined the soccer team in sixth grade, middle school
VVN: What's your favorite part about playing soccer?
Ruiz: Scoring goals, but I'm a defender, so I have to defense more than scoring goals.
VVN: Is it even cooler when you score a goal when you're a defender?
Ruiz: Yeah or assisting the ball to a striker up front.
VVN: When you take a penalty kick, do you have a set philosophy on you're going to do it? Is it like you're going to go one way or the other way or is it kinda how you feel?
Ruiz: I don't make eye contact with the goalkeeper. I just look down at the ball and in my head I already know where I'm going to go. I just look straight down, go back and shoot the ball.
VVN: Do you have a favorite soccer team overall?
Ruiz: Yeah, the Camp Verde Cowboys (laughs).
VVN: Do you have a favorite pro team?
Ruiz: Oh pro team? Real Madrid.
VVN: How come?
Ruiz: They're just really good in the passing, good pressuring, good in the defense.
VVN: How well do you think the team can do this year?
Ruiz: We can do real good, we just got to focus on every practice, every game we get.