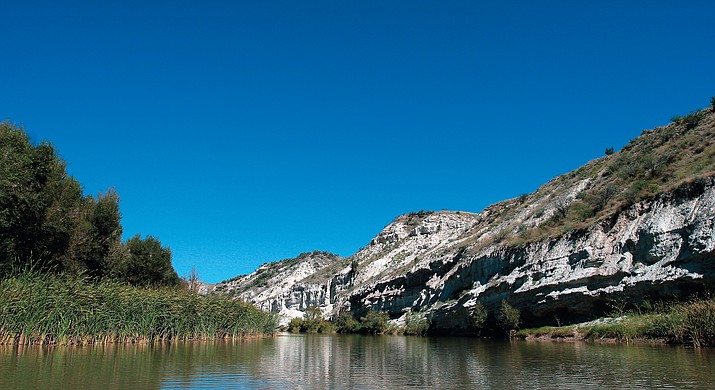 Originally Published: September 9, 2017 3:51 p.m.
CAMP VERDE – With the popularity of events such as Jerome's Art Walk, the Town of Camp Verde, Thanks a Latte and One for the Verde will present the Town's first Dinner with the Artists on Sept. 29.
According to Amber Engelmann, intern with the Town of Camp Verde's Economic Development Department, One for the Verde approached the Town about possible partnering an art event.
"We wanted to find a way to bring people to Camp Verde's art scene," Engelmann said. "So we decided to do a smallish art show."
After considering a few different ways to put on an evening of art event, the idea for Dinner with the Artists was born.
Due to space limitations at the downtown coffee shop, the show will be limited to five artists, with each able to show work on an 18-inch by 74-inch table. Depending on the medium, each artist will also be able to display one small piece on the Thanks-a-Latte wall.
Participating artists are responsible for preparing their display, including receipts, pricing and any self-publicity materials, such as business cards.
"Because it's such a small space, we're hoping that for future events we can have more artists," Engelmann said.
As per the event application, each participating artist agrees to donate one percent of any sale made during the event to One for the Verde, to be paid at the conclusion of the event.
One for the Verde will use the donations to support the restoration and preservation of the Verde River and its tributaries. One for the Verde is a project engaging local businesses in support of nonprofits restoring and preserving the Verde River Watershed.
Applications for Camp Verde's first Dinner with the Artists event are due on Sept. 15. With their paid application, artists will also receive dinner – and an opportunity to talk with patrons about their art "in a way that isn't normally accessible," Engelmann said.
One artist says she looks forward to showing her work at Thanks a Latte.
Since her uncle married into an Italian family "famous for their fine art mosaics," Rebecca Murray says she "was hooked."
Now settled in Camp Verde, Murray says she is "always stopping to appreciate folk art mosaics anywhere I see them." Both an artist and an educator-at-heart, Murray would like to "teach others who may want to learn this craft, as well as project work for public and private art here in the high country."
Though the event's partners are not planning to make Dinner with the Artists an annual gathering, Engelmann said that they plan to "regularly bring artists to Main Street."
"We're excited to bring the arts into the public eye," Engelmann said. "We have plenty of great artists in Camp Verde."
To pick up an application for Dinner with the Artists, contact the Town of Camp Verde's Economic Development Department at 473 S. Main St. or contact Sebra Choe at Sebra.Choe@CampVerde.AZ.gov or call 928-554-0008.
Thanks a Latte is located at 348 S. Main St. Call 928-567-6450 for more information.
-- Follow Bill Helm on Twitter @BillHelm42
More like this story