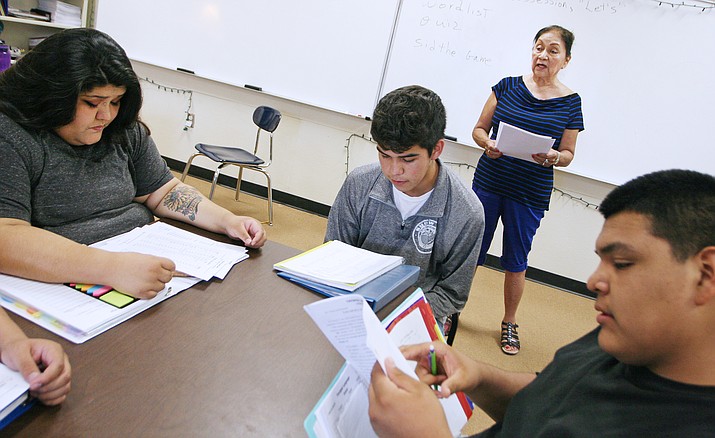 Originally Published: September 12, 2017 1:38 p.m.
CAMP VERDE – With Native Americans making up about 10 percent of Camp Verde Unified's student population, District Superintendent Dr. Dennis Goodwin decided that both Yavapai and Apache language courses needed to be part of the high school's elective program.
Having established what he says is a "strong working relationship" with Jane Russell-Winiecki, Tribal Council Chairperson of the Yavapai-Apache Nation, Goodwin has entrusted the Nation with finding Yavapai and Apache speakers who could qualify to teach in a high school classroom.
A month in on the school year, Camp Verde High School is able to offer a Yavapai language class– but not an Apache language class. Not yet.
Native tongue
With experience teaching both Yavapai history and Yavapai language at Yavapai College's Clarkdale campus, Frieda Ann Eswonia teaches her native tongue to high school students at Camp Verde Unified.
Says Russell-Winiecki, Eswonia is one of a relative few fluent Yavapai speakers on the Nation.
"Among those easily identifiably fluent speakers, Frieda has taught in the classroom before," Russell-Winiecki says.
The Nation's set of qualifications are the same for the two languages.
To teach either Yavapai or Apache at Camp Verde High School, a candidate must be a fluent speaker of the language, and have some teaching background, either at the Nation or elsewhere.
The candidate must also be an enrolled tribal member, Russell-Winiecki says.
"The State certifies Native speakers in a different way by getting the Tribe's approval that she is, in fact, a fluent Yavapai speaker – which we did," Russell-Winiecki says. "The State has no way of identifying those languages since they are not in any State curriculum and so must rely on our certification and approval."
Continuing to get the word out
In years past, Yavapai language was a first-semester offering, and Apache a second-semester class. At this time, Russell-Winiecki says she anticipates an Apache speaker "will teach at CVHS next year, replacing the Yavapai teacher."
-- Follow Bill Helm on Twitter @BillHelm42
More like this story