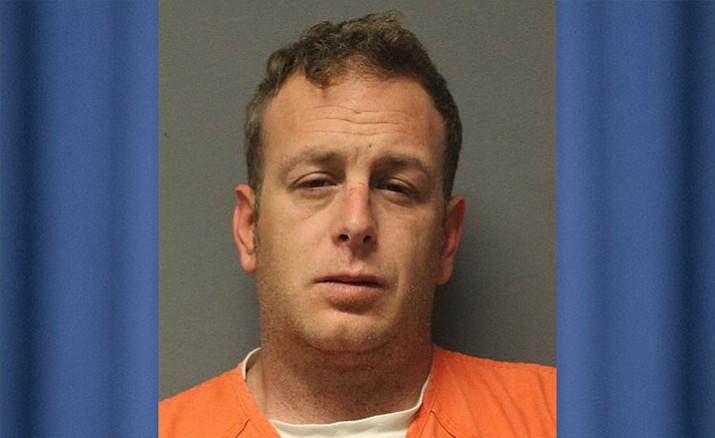 Originally Published: September 12, 2017 2:23 p.m.
CAMP VERDE -- Cody Louis Bright of Cottonwood appeared in court Tuesday morning to plead guilty to 13 charges related to a deadly Nov. 23 accident involving three vehicles on Cornville Road.
Bright appeared in custody before Judge Michael R. Bluff at Yavapai Superior Court for both a probation violation management conference and a pretrial conference. Victims were present in the courtroom.
Bright, 32, entered guilty pleas to one count of manslaughter, one count of aggravated DUI, eight counts of endangerment, two counts of criminal damage and one count of aggravated assault as per the plea deal. Bright faces between 15 and 20 years in prison, depending on sentencing. The sentence is prison-mandatory with probation unavailable to Bright. The plea dropped a second-degree murder charge to manslaughter.
Bright's guilty plea results in a violation of his probation for DUI charges he acquired in June 2016. He may face additional prison time for a probation violation, depending on whether the time runs concurrently or consecutively.
Judge Bluff made no indication of what he is inclined to do at sentencing.
"I'm not prepared to make any assurance about that sentencing range," Bluff said.
Bright faced a maximum of 87 years if he were found guilty in a jury trial.
Defense attorney Renee Mendehlson deferred to Bright to present the factual basis for his plea. Bright told the court he and two friends drank "a lot of alcohol" and drove to Mormon's Crossing at Oak Creek. While returning on Cornville Road, Bright, who was driving his red 1999 Ford Escort sedan on a revoked license, tried to pass a truck when the collision occurred.
Bright's passenger, Justin Allen Goemaere, 31, of Cottonwood, was killed in the crash. Shawn H. Morgan, 20, of Cottonwood, was the back-seat passenger and suffered no incapacitating injuries.
Judge Bluff asked Bright how long it had been since Bright had his last alcoholic beverage and when he began driving that evening. Bright answered "about 30 minutes." Bright's blood-alcohol content tested at .23 percent in retrograde.
Bright was in tears as he recalled the crash in court.
"Other people could have been seriously hurt because of my recklessness, or killed," Bright said.
Judge Bluff also asked if he had been in a passing zone, to which Bright answered he began passing the truck in a passing zone but at the time of the collision was in a double-yellow zone.
Bright was asked by Judge Bluff if he remembers anything else after that.
"I remember trying to get my friend out of the car," Bright said.
Dwight D'Evelyn, Yavapai County Sheriff's Office media relations coordinator, stated that according to witnesses "There were four oncoming vehicles traveling east on Cornville Road. The first three of those vehicles had to move into the westbound lane to avoid being struck by the suspect vehicle now occupying their lane going in the wrong direction. As a result, cars traveling west had to swerve onto the right shoulder to avoid those escaping a head-on collision with the suspect. The fourth east-bound vehicle, a 1995 blue Mercury van, was unable to avoid the suspect vehicle and collided. The blue van contained only the driver, a 62-year-old woman from Cornville, who was severely injured and flown to Flagstaff Medical Center."
During the collision, explained D'Evelyn, a silver 2001 Nissan Sentra traveling west on Cornville Road was forced onto the right shoulder, overcorrected, swerved across lanes and then rolled before coming to rest on the south side of Cornville Road. The driver of the Nissan was a 38-year-old mother with her 8-year-old daughter as passenger. Their injuries were listed as minor.
When deputies initially spoke with Bright after the accident, said D'Evelyn, he attempted to place the deceased passenger, Goemaere, as the driver of the suspect vehicle. Several witnesses and physical evidence provided proof that Bright was driving the red Ford Escort.
Bright could owe up to $500,000 in restitution.
Judge Bluff ordered that a pre-sentencing report be filed. He also ordered Bright be held without bond.
Bright is scheduled to be sentenced Oct. 13.
More like this story