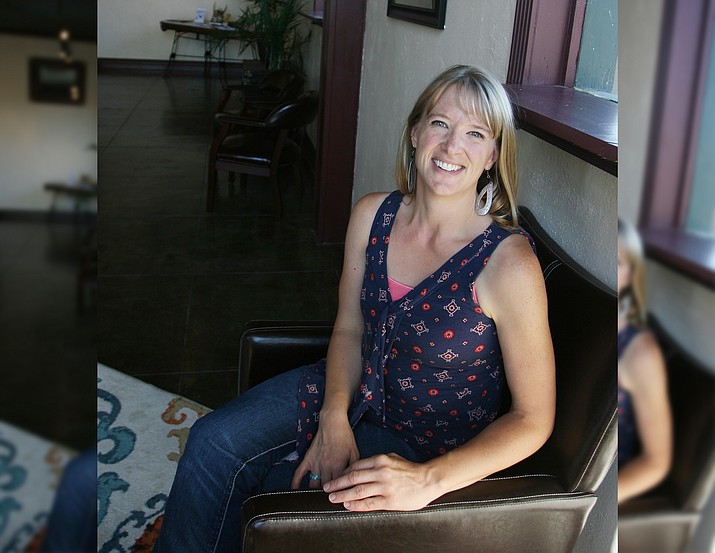 Originally Published: September 12, 2017 1:45 p.m.
CAMP VERDE – The average person doesn't know all that much about automotive, home or life insurance.
Until recently, the same could be said about Lee Erin Carpenter.
It wasn't that long ago that Carpenter was a school teacher – in Africa.
"I started a school there," says Carpenter. "Taught there four years."
With a plan to return stateside for a year, Carpenter found herself cooking at a hunting camp.
Carpenter says she was not able to adjust to the differences between teaching overseas and teaching in America.
So she decided that teaching was no longer for her – at least not in the classroom.
Now selling all lines personal insurance in Camp Verde for Farm Bureau Financial Services, Carpenter has learned a lot about insurance since she officially made the career change in late-2016.
"It has been a huge learning curve," she says. "But I've learned a ton."
Carpenter passed the first of her two insurance exams in December 2016, the other just two months later. Selling insurance for Farm Bureau since March, she opened her own office on Aug. 10. Though a business owner, Carpenter is an independent contractor with Farm Bureau, as she signed what they call in the insurance industry as her "career agent contract."
Though she's still teaching, it's insurance this time.
"I'm big on education," Carpenter says. "I think it's a good thing that we write policies for individuals. I'll go to people's homes, provide good customer service. I want them to understand what could be a risk, and we want to help them."
One additional coverage Carpenter is proud to offer with Farm Bureau's home insurance policies is "mechanical breakdown" coverage.
"If people's major appliances break, we cover replacement and installation," she says.
At about $25 annually, Carpenter says that filing a mechanical breakdown claim "doesn't count against you," meaning the insured's rates would not increase.
"It's a really good, unique coverage," she says.
As the company is called Farm Bureau, personal liability limits can also be extended to one's horse – also an optional coverage.
At the end of the day, Carpenter says that her business is a people business, not spreadsheets and metrics.
"I like to deal with people in person," she says.
Either at the client's home – or the office – Carpenter sees the need to expand her one-person operation and says she looks forward to the day when she can bring on a service associate and then a sales associate.
As per the name, Farm Bureau is not just an insurance option for its clients. The membership-based organization also provides financial services, such as a regional financial consultant.
"He'll come out and meet with people, face-to-face," Carpenter says.
Lee Erin Carpenter's Farm Bureau Financial Services office is located in the Wingfield Plaza at 564 S. Main St., suite 113 in Camp Verde.
Hours are from 9 a.m. until 5 p.m. Monday through Friday, but since Carpenter is the only person in the office, she says it's best to call first to make sure she is not out on appointment.
Call 928-567-8956 (office), 928-567-7871 (cell) or email Lee.Erin.Carpenter@fbfs.com.
-- Follow Bill Helm on Twitter @BillHelm42