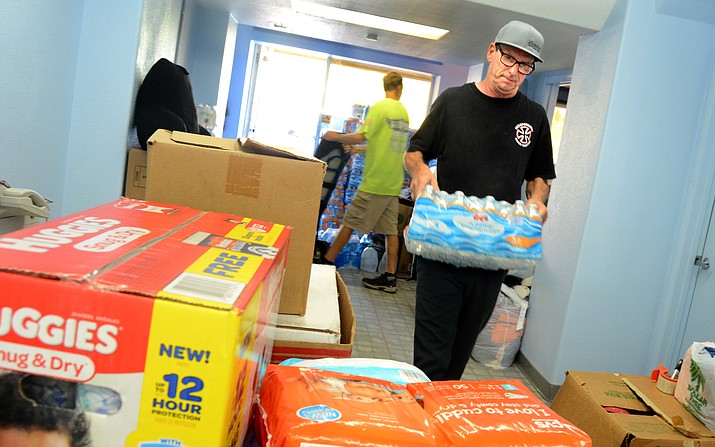 Originally Published: September 15, 2017 12:44 p.m.
Donations from the Verde Valley have been loaded up by a second Cottonwood business owner and headed out Friday morning to Texas for Hurricane Harvey relief.
Ken Wood, owner of A1 Supreme Moving in Cottonwood, rented three big trucks for the donation haul, which was loaded from an unoccupied storefront where the items were stored next to Vinnie's Pizza.
There was so much bottled water and food, the Cottonwood Fire Department came by to help load the three trucks Thursday morning. There was also clothing, dog food and wheelchairs that Wood has been collecting from the community for two weeks.
Wood was still loading his truck late Thursday after people saw his story on The Verde Independent Facebook page and began driving donations down to Vinnie's Pizza plaza. He hugged a family after they dropped off their donation.
"Human kindness. Help somebody," Wood explained when asked why he was doing this. When he is working, Wood said he drives moving trucks from one end of the United States to the other.
"We're going into Kemp, Texas," he said. "Meeting up with the Marine Corp. and then going into the hot spots down into Houston."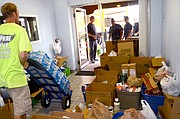 Wood said he is making sure that the donations are getting directly to Hurricane Harvey victims.
He said people can follow the trip on Facebook.
One week ago, Jet Foley, the owner of RIOT in Old Town Cottonwood, packed donated items from the community into a borrowed trailer and truck and drove to Texas with Hurricane Harvey relief items
Foley reported on Friday that what was happening in Houston was amazing.
"The couple of days I spent going through the neighborhoods and talking and giving to so many who lost was the best experience of my life," Foley said. The Cottonwood woman said there was so much devastation in Houston and thanked the Verde Valley community for helping with the needs of Houstonians.
"The need is great," she said.
Wood said he was "blown away" by the amount of donations from the community and help from volunteers and local businesses.
Later in the afternoon he admitted he was exhausted – but with a huge smile.
Wood said he would be posting photos and updates on the trip's Facebook page: https://www.facebook.com/a1supremesadayofgiving/
More like this story