Originally Published: September 16, 2017 1:10 p.m.
SEDONA – Yavapai College held a grand reopening ceremony of the Sedona Center on Sept. 12. It was announced that the name of the new school would be the Sedona Culinary Institute.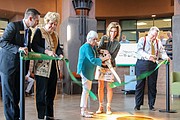 The Sedona campus was filled with attendees along with councilmembers from Sedona, Clarkdale and Jerome.
Mayor Sandy Moriarty was a key speaker at the school's opening event.
"It's a dream come true to see this happening," Moriarty said. "I couldn't be happier."
Yavapai College District Governing Board and Dr. Connie Harris and Yavapai College President Dr. Penny Wills also spoke about their excitement of the reopening.
After the ribbon cutting, visitors were welcome to view the new facilities of the institute, including state of the art cooking, washing and prep stations.
The culinary school has eight large working stations with ovens, ranges, fryers, grills, and reach-in freezers and refrigerators, along with three walk-in coolers.
The Sedona Center will also be the site of the college's Hospitality program.
Yavapai College's Sedona Center is located at 4215 Arts Village Drive.
Bill Helm made contributions to this article. Follow Bill Helm on Twitter: @BillHelm42